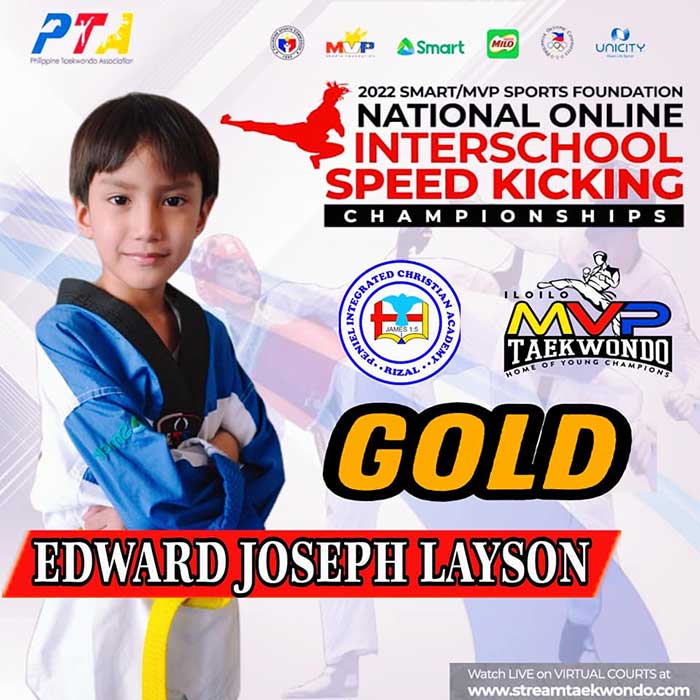 By Leobert Julian A. de la Peña
The Iloilo Mark V. Pinggol (MVP) taekwondo gym is back dominating foes in the national scene after ruling the 2022 SMART/MVP Sports Foundation National Online Interschool Speed Kicking Championships.
A total of 17 medals were raked by the nationally-renowned taekwondo gym: nine golds, two silvers, and six bronze medals.
Despite a long lay-off in the national taekwondo scene, the Ilonggo jins were still a force to be reckoned with and outdueled other competing schools from all over the Philippines.
The MVP jins who brought pride and delivered the gold medals were Edward Joseph Layson, Paul Orqeujo, Francheska Isobelle Dunton, Jenella Louise Lim, Eujean Ivanka Castete, Jannah Ysabel Velez, Ianna Gabriella Rosales, Sophia Marie Bautista, and Marielle Faye Lagamo.
Meanwhile, the two silver medalists who brought pride to Iloilo and Region VI were Eduardo Adenic III and Maria Beatriz Santos.
James Annrhey Pecayco, Phil Andrew Margarico, Sheine Nicole De Asis, Leianne Obispo, Mary Bernadette Algarja, and Enzo Lucio Cape.
Other notable MVP jins who were able to qualify in the top 15 of their respective categories were Samantha Gayle Go, Kiann Dhale Fuentespina, Cian Veedant Alonday, Jeremi Panaguiton, Pearl Danielle Rosales, and Sophia Grace Go.
This is just the start of a busy year-long schedule for the Iloilo MVP gym and is also currently preparing for more face-to-face tournaments in Iloilo City and Region VI.
The last time that the Iloilo MVP gym competed in a face-to-face tournament was one month ago during the 2022 1st Regional Face to Face Taekwondo Poomsae Championships held in SM City, Iloilo.