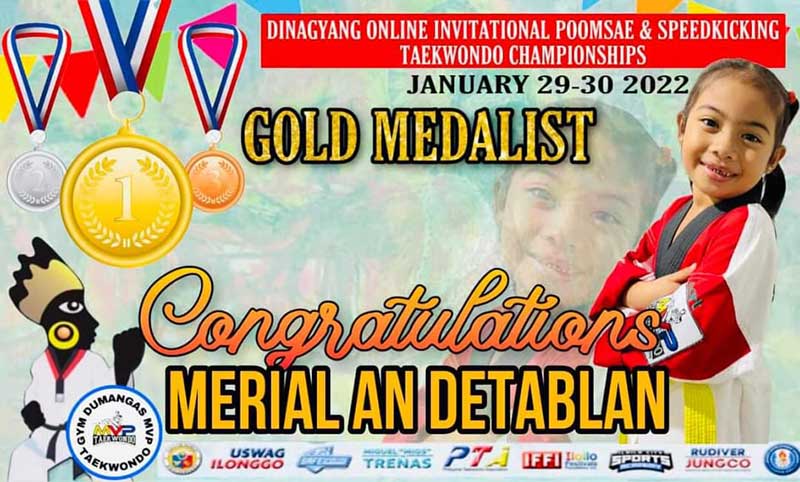 By Leobert Julian A. de la Peña
The Iloilo Mark V. Pinggol (MVP) taekwondo gym showed no signs of rust and kicked off their 2022 with a stellar campaign in the Dinagyang Online Invitational Poomsae & Speedkicking Taekwondo Championships.
Excited to return to formal competition amid the COVID-19 pandemic after deciding to take a couple of months off from joining tournaments, one of the most-renowned taekwondo gyms in Western Visayas hauled a total of 79 medals in the recently concluded Dinagyang tilt.
Out of the 79 medals won by the MVP gym, 33 were gold medals, 24 were silver, and 22 were bronze.
Head coach Mr. Pinggol introduced how good his jins are at the Dumangas MVP gym, a newly opened gym which serves as an expansion of his main MVP taekwondo.
The Dumangas MVP jins contributed 20 out of the 33 gold medals, 11 out of the 24 silver medals, and five out of the 22 bronze medals.
Leading the new MVP breed of champions in Dumangas are Nieka Thalia Guevara, Reyven Ken Decolongon, Amber Gale Abellar, Zean Divinagracia, Alexis Jane Robles, Carl Tyrone, Joannah, and Khent Wharlie Donguila, Nathan Lee Dedal, and Merial An Detablan.
Meanwhile, other Dumangas MVP champions are Ryza Chanel Tabucan, Prince Ivan and Adrian Renz Barcemo, Vince Gian Feñafiel, Rein Ian Dongosa, Je Ann Decolongon, Lindsy Lorriane Degayo, John Lioven Duhina, Grezell Palacios, and Christian Mark Palacios.
The main Iloilo MVP gym then concluded the results with 23 medals, 13 golds, 13 silvers, and seven bronze medals.
MVP staples James Pecayco, Eujean Castete, Sophia Marie Bautista, Geon Ivan Dulaca, Andria Margaret Palabrica, and Jeremi Panaguiton still performed consistently and were among the gold medalists.