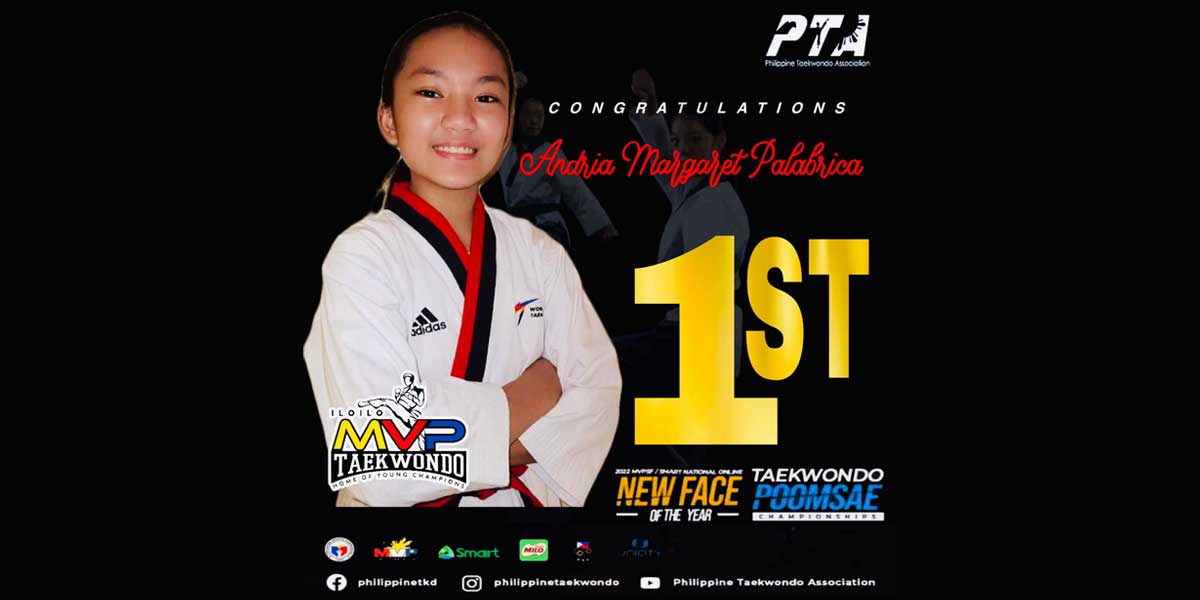 By Leobert Julian A. de la Peña
The Iloilo Mark V. Pinggol (MVP) taekwondo gym is finally back on track and immediately impressed during their stellar finish at the 2022 Philippine Taekwondo Association (PTA) New Face of the Year 2022 Online Speed Kicking and Poomsae Championships.
Despite a tournament hiatus during the past months due to the rising cases of COVID-19, the Pinggol-led jins showed no signs of rust and hauled 33 total medals.
The MVP gym recorded one of its highest gold medal tally's since last year after collecting 19 while also winning 10 silver medals and four bronze.
During Poomsae's day 1, Geon Ivan Dulaca, Nieka Thalia Guevara, Amber Gale Abellar, Francheska Isobelle Dunton, Nathan Lee Dedal, Alicia Sophia Gutierrez, Jenella Ashley Tionko, Joycie Pearl Tacuel, Margarette Gem Obsequio, Andria Margaret Palabrica, Anthony Benedict Planta, Crisgel Castro, and Niesha Pequierda gave the prestigious taekwondo gym its first 13 gold medals.
Meanwhile, silver medalists during day 1 were: Arvin Kirk Derayunan, SiViene Marie Dulaca, Sirhc Einreb Damaolao, Justin Adrian Apura, and Enzo Lucio Cape.
Familiar names from day 1 then added more gold medal tally for MVP gym with Prince Ivan Dugayo, Rein Ian Dongosa, Khent Wharlie Donguila, Nicah Jane Robles, Johann Miguel Macanas, and Xabriel Zia Gebucion, and leading another hot start for the Iloilo-based taekwondo gym.
Concluding the tournament awards are silver and bronze medalists: Alexandria Margarethe Duhina, Adrian Renz Barcemo, Edward Joseph Layson, Alex Jane Robles, Joannah Donguila, Adenny Lourl Rivera, Francheska Isobelle Dunton, Van Enzo Carreon, and Princess Hannah Mia Cruz.