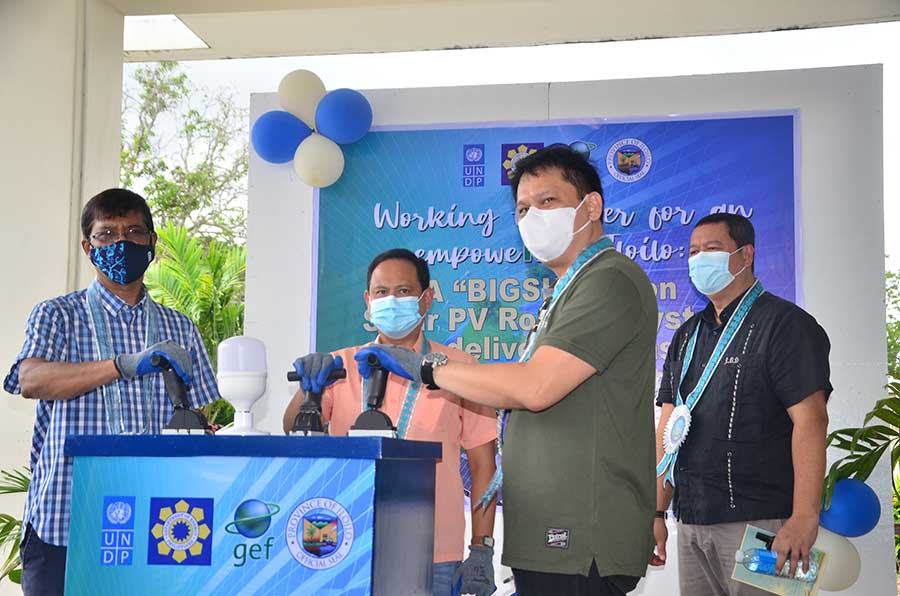 By Joseph B.A. Marzan
The Iloilo provincial government on Wednesday launched a solar energy project at the Iloilo Provincial Hospital (IPH) in Pototan town.
The project is part of the Development for Renewable Energy Applications Mainstreaming and Market Sustainability (DREAMS) Project of the Department of Energy (DOE) in partnership with the Global Environment Facility (GEF) and the United Nations Development Program (UNDP).
It aims to provide IPH with better power supply and save on energy costs in the long-term
Governor Arthur Defensor Jr. led the launch with the signing of a memorandum of agreement together with IPH chief Dr. Albert Cordero and UNDP representative Dr. Selva Ramanchandran.
Also in attendance were provincial Board Members Rolly Distura (4th district) and Ramon Sullano (League of Councilors), Pototan town mayor Enrique Lazaro, DOE Renewable Energy Management Bureau (REMB) chief Engr. Gaspar Escobar, Jr., and Iloilo II Electric Cooperative (ILECO II) General Manager Engr. Jose Redmond Roquios, among others.
Solar panels from Gendiesel Philippines, which won the contract to build the project in a 90-day time frame, will be installed on the rooftops of several structures within the IPH compound.
It is expected to produce a 75-kilowatt (KW) renewable energy capacity for the use of the IPH's facilities.
Defensor thanked the DOE and the UNDP, saying, "This project signals our transition in the use of our facilities for renewable energy," adding that he would look forward for more partnerships with the two agencies.
Cordero noted that the project will provide an uninterrupted power supply to the hospital's critical areas, including the Intensive Care Unit (ICU), Emergency (ER) and Delivery Room (DR) complexes, and the IPH Molecular Laboratory.
He added that the hospital would save up between P1.3 million to P1.5 million annually in energy costs, which would be beneficial to both the hospital and the provincial government.
The hospital chief cited their energy consumption of 776 KW hours in 2021, which cost them a P6.1 million electric bill.
Escobar said that the project signals the implementation of Republic Act No. 9513 (Renewable Energy Act of 2008) in Iloilo.
"[The IPH solar panels project] is very promising. We are not only giving power that is not coming from the grid, on the healthcare system, but we also want to expand it to other sectors like the private buildings here. […] This is an example that we [would want] them to replicate," Escobar said.
The total budget for the project is at P6.8 million, with P5 million coming from the support of the DOE-UNDP-GEF, and P1.8 million as matching by the Iloilo provincial government.