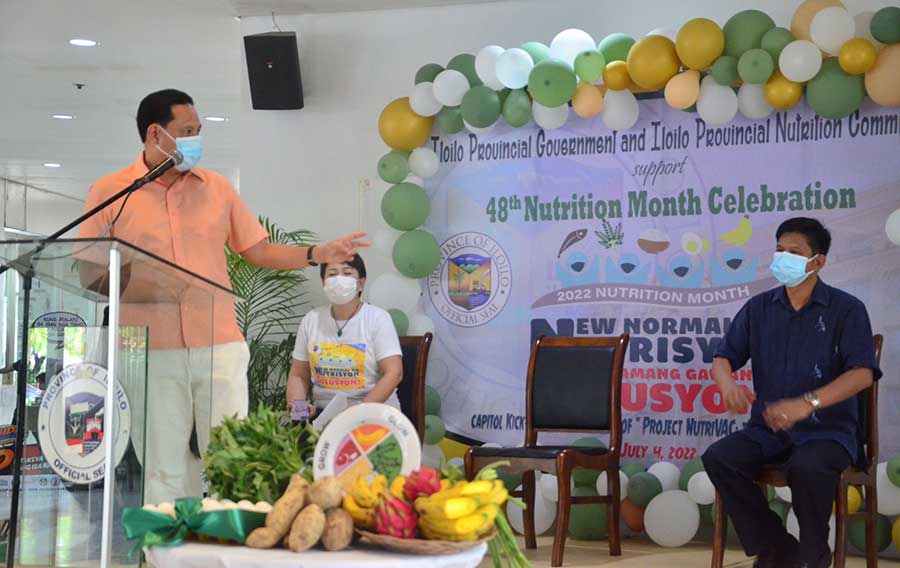 By Joseph B.A. Marzan
The Iloilo provincial government on Monday launched a program integrating its celebration of the national Nutrition Month this July with the ongoing coronavirus disease 2019 (COVID-19) vaccination program.
Called "Project NutriVac", the integrated program aims to increase COVID vaccination coverage towards economic recovery, promote family nutrition and strengthen public health vs. COVID, and incentivize vaccination to increase inoculation uptake.
Iloilo Governor Arthur Defensor Jr. issued Executive Order No. 307 last Friday, July 2, to create the program.
A launch event was held on Monday at the provincial capitol lobby that was graced by provincial government officials and private sector and small business partners.
The Nutri-Agri Fair was also part of the launch program where food and nutrition products were distributed to capitol employees and visitors.
NutriVac packs were distributed to beneficiary local government units, including the towns of Ajuy, Concepcion, Estancia, Guimbal, Lemery, Maasin, Pavia, and San Rafael, as well as Passi City.
These packs will be distributed to families with children who are underweight, wasted or stunted; those who will avail of COVID-19 vaccination; and to indigent families, based on nutrition indicators and pro-rated based on population.
Provincial officials together with the National Nutrition Council (NNC) also led the signing of a pledge towards a malnutrition-free province.
In his speech, Defensor said that the new program allows the attainment of this year's Nutrition Month theme "New Normal na Nutrisyon, Sama-samang Gawan ng Solusyon".
"Through Project Nutrivac, we can pursue and implement the issuances of the Department of Health on nutrition and at the same on COVID-19. Let us combine our nutrition program with our vaccination program," Defensor said.
NNC-Region 6 Nutrition Program Coordinator Reginaldo Guillen also expressed his support for the program.
"On behalf of our executive secretary, the National Nutrition Council wishes the provincial government of Iloilo best of luck in battling COVID-19 and pursuing the objectives of eradicating malnutrition in the province," Guillen said.
Upcoming activities include nutrition counseling on special diets, food tasting, and cooking demonstrations of low-cost nutrition recipes, among other programs. There will also be 'Nutri Talks' to be held via Facebook Live on July 5, 6, 7, 11, and 14.
The Iloilo provincial government has so far inoculated 80.10 percent of its priority eligible population for the first dose while 74.37 percent had been completely vaccinated (two doses).
But only 225,019 or 13.36 percent have availed of booster dose, with a total of 40,901 (17.10 percent) senior citizens and 47,454 (33.35 percent) for the rest of the adult population received their booster shots.
As to the state of children's nutrition, the Provincial Health Office's latest data indicated that 2,552 children aged between 0 to 5 years old (1.58 percent) are wasted while 12,016 (7.46 percent) are stunted.
The provincial capitol's press release also cited Department of Education data which indicated that among children aged between 5 to 12 years old in the province, there are a total of 15,404 children who are severely wasted and 3,242 who are severely stunted.
A "wasted" child, in nutrition terms, refers to children with low weight-for-height ratio, with their current weight being under the ideal value for their height.
"Stunted" children are those whose heights are not ideal for their age, attributed to recurrent undernutrition and economic factors.