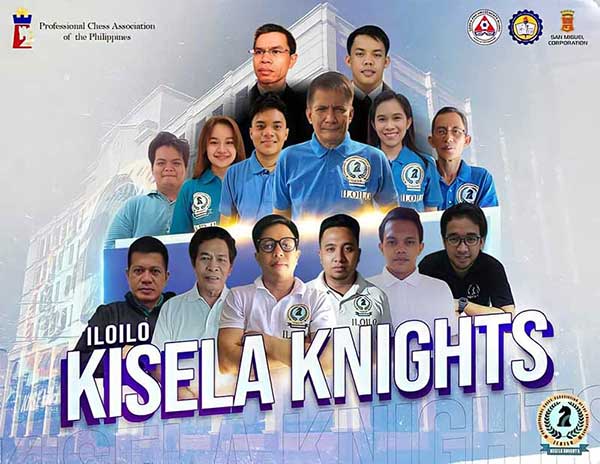 By Leobert Julian A. de la Peña
The Iloilo Kisela Knights continued its hot start in the 2022 Professional Chess Association of the Philippines (PCAP) Wesley So Cup and finished Day 2 with convincing back-to-back wins.
Fresh off a perfect 21-0 performance against the Pagadian Costbusters PCL during their opening match, the Kisela Knights rode on their momentum and crushed Davao, 14.5-6.5, and Zamboanga, 17-4.
The trio of GM Hovhannes Gabuzyan, GM Rogelio Antonio Jr., and NM Cesar Mariano spearheaded the Iloilo offense during the opening blitz category and helped them grab the early 4.5-2.5 lead.
Davao attempted to claw their way back after forcing Karl Viktor Ochoa and WFM Cherry Ann Mejia into back-to-back draws but GM Antonio Jr. and NM Rolly Parondo Jr. finished their respective playing boards with wins that sealed the deal for their second-straight victory.
Meanwhile, against Zamboanga, the Kisela Knights found difficulty in getting early control after only leading by just a point in the first seven playing boards, 4-3.
Zamboanga got to an impressive start with wins coming from NM Dale Bernardo, NM Butch Villavieja, and NM Raymond Salcedo.
However, Iloilo was quick to find answers and snowballed the rapid category with five straight board wins courtesy of GM Gabuzyan, Ochoa, WFM Mejia, GM Antonio Jr., and NM Fritz Bryan Porras.
NM John Michael Silvederio then provided the exclamation point after outdueling NM Zulfikar Sali of Zamboanga to complete the 13-1 turnaround.
With the two consecutive wins, Iloilo is still undefeated in three matches and is looking to defend its championship title.