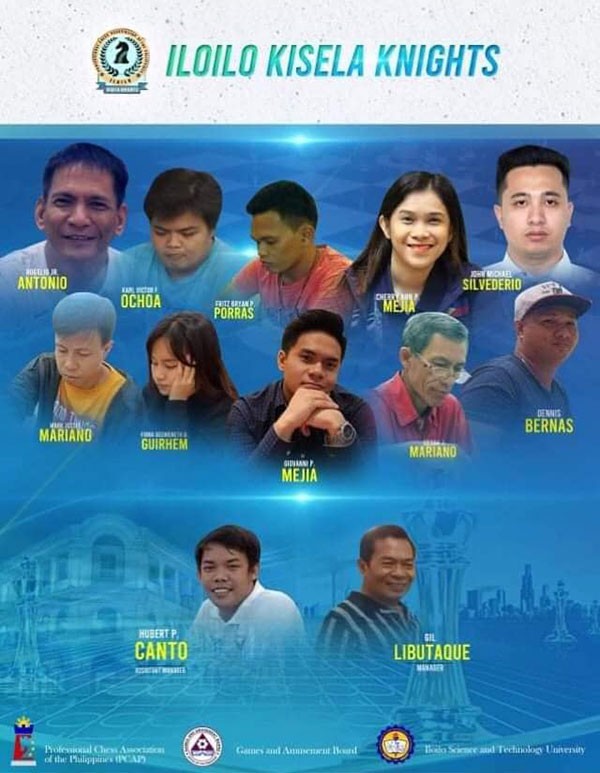 By Leobert Julian A. de la Peña
The Iloilo Kisela Knights finally had their revenge against their Southern division rival Negros Kingsmen during the Professional Chess Association of the Philippines (PCAP) Day 15.
Losing the first meeting to the Southern powerhouse, 12-9, the Kisela Knights waited patiently for their highly-anticipated rematch and crushed them with an astonishing score of 16.5-4.5.
All the hard work and the planned strategies they had against Negros were executed to perfection after Iloilo only managed to drop just two playing boards in both the Blitz and the Rapid categories.
The Kisela Knights took the early lead in the Blitz after Karl Viktor Ochoa and company scored convincing wins to seal the category win, 5.5-1.5.
Iloilo's consistent style of attack was evident in the Rapid category and just ran over the Kingsmen to score the huge bounce-back victory, 11-3.
The much-needed win equalized their PCAP series to 1-apiece and put the Kisela Knights in the solo top one rank of the Southern division with 429 points.
Meanwhile, Iloilo completed their successful PCAP campaign with a win against the Lapu-Lapu City Naki Warriors, 18-3, to end Day 15 with another sweep.