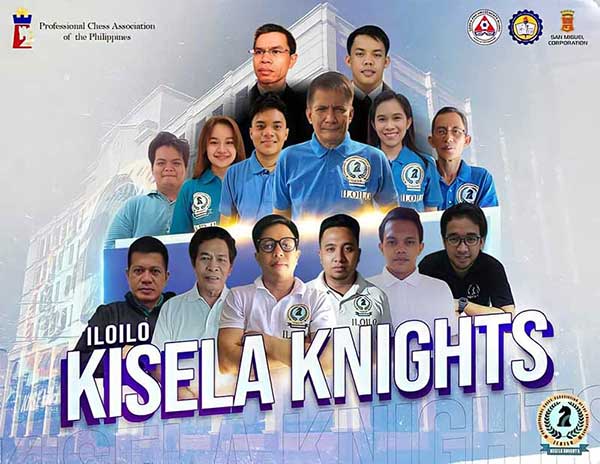 By Leobert Julian A. de la Peña
The Iloilo Kisela Knights are still the best team in the Southern division after continuing their undefeated 2022 Professional Chess Association of the Philippines (PCAP) Wesley So Cup campaign.
Iloilo never lost a step and dominated in another PCAP game day after decimating Tacloban, 18-3, and Cebu, 19-2, to extend their winning streak to 11 matches.
Fresh off convincing wins against Cagayan De Oro and Palawan, the Kisela Knights grabbed the early momentum and never trailed in all 28 playing boards in their two scheduled games.
Iloilo kicked off its duel against Tacloban with a quick 6-1 lead in the blitz category courtesy of a momentum-clinching five-board winning streak to close the first seven playing boards.
It was the same result in the rapid category as Iloilo kept on grabbing every playing board and ended the match with a 12-2 score.
The Kisela Knights topped its performance during their second game after handing Cebu a clean sweep in the first seven playing boards, 7-0.
Cebu started the rapid category on a high note after immediately clinching the first board win as Randy Cabuncal outplayed GM Hovhannes Gabuzyan.
However, Iloilo responded with a jaw-dropping 12-0 run after claiming the next six boards led by the sharp attack of GM Rogelio Antonio Jr., WFM Cherry Ann Mejia, and NM Rolly Parondo Jr.
NM John Michael Silvederio and NM Fritz Bryan Porras then provided the icing on the cake after taking the last four points and helped keep their perfect PCAP record.
The Kisela Knights are currently preparing for another set of challenges as the 2022 PCAP first -round robin is about to begin tomorrow.