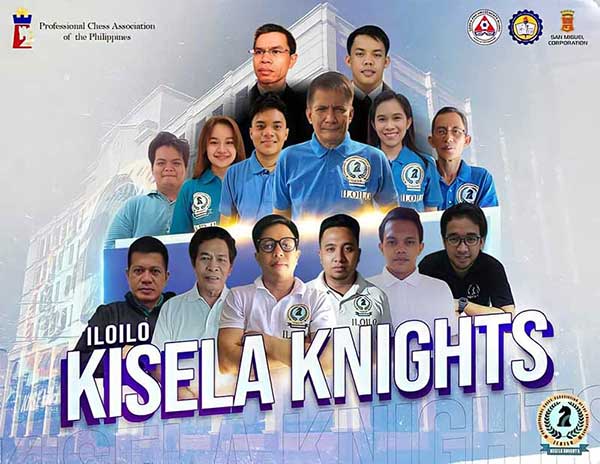 By Leobert Julian A. de la Peña
The Iloilo Kisela Knights maintained their no. 1 spot in the Southern division and scored twin wins against Zamboanga and rival team Negros in the ongoing 2022 Professional Chess Association of the Philippines (PCAP) Wesley So Cup.
Fresh from convincing wins against Davao and Pagadian PCL, the Kisela Knights continued its stellar outing and demolished Zamboanga, 20-1, and outdueled Negros, 13-8.
There was nothing Zamboanga could do against the blazing offense of the Kisela Knights after opening the blitz category with a 5-0 run, ending the first seven playing boards with a 6-1 score.
The mighty Kisela Knights weren't done doing damage and pulled off one of their best rapid category performances after sweeping Zamboanga in all seven playing boards, 14-0.
GM Hovhannes Gabuzyan kicked off the rapid onslaught with a huge win over NM Dale Bernardo of Zamboanga and was followed by promising performances from WFM Cherry Ann Mejia, GM Rogelio Antonio Jr., and NM Rolly Parondo Jr.
Meanwhile, against Negros, the Kisela Knights fought a tougher competition and only managed to lead by a point in the blitz category, 4-3.
It was an action-packed rapid category as both Iloilo and Negros exchanged scoring runs but the Kisela Knights started to pull away in the fourth playing board courtesy of GM Antonio Jr.'s win.
From there, the Kisela Knights mounted a momentum-clinching four-board streak with two wins and two draws which gave them a 9-5 lead at the end of the rapid category.
NM Cesar Mariano, NM Fritz Bryan Porras, NM Parondo Jr., and GM Antonio Jr. closed the last seven boards with huge performances and made up for Karl Viktor Ochoa's loss.