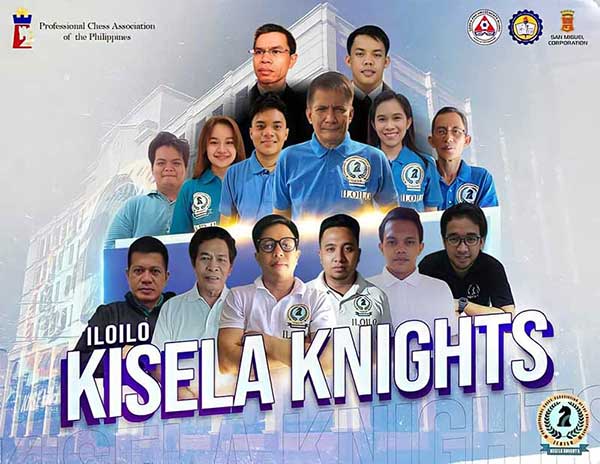 By Leobert Julian A. de la Peña
After 17 matches, the Iloilo Kisela Knights are still the kings of the Southern division and are yet to drop a single series in the ongoing 2022 2022 Professional Chess Association of the Philippines (PCAP) Wesley So Cup.
The Kisela Knights handed team Rizal with a rude third-round robin welcome after crushing them, 16-5, and followed it up with another masterclass against Quezon, 14.5-6.5.
Iloilo still holds a perfect record in the round-robin and already slayed six northern teams: Pasig, Olongapo, Cavite, Mindoro, Rizal, and Quezon.
Iloilo wasted no time in imposing their will against the northern division squads after decimating Rizal in all the 14 playing boards.
Rizal struggled against the blazing offense of the Kisela Knights and faced a locked-in Iloilo team that managed to clinch six quick wins to put themselves in a commanding 6-1 lead after the blitz category.
Iloilo continued its offensive onslaught in the rapid category and scored a momentum-clinching four-straight wins to kick off the first four boards and finished strong with a win from NM Rolly Parondo Jr.
Meanwhile, against Quezon, the Kisela Knights replicated their flawless outing and outplayed them in both the playing categories.
The Kisela Knights were led by GM Hovhannes Gabuzyan, Karl Viktor Ochoa, GM Rogelio Antonio Jr., NM Fritz Bryan Porras, and NM Parondo Jr. in the blitz category and helped Iloilo kickstart the duel with a 5.5-1-.5 lead.
Quezon had a better outing in the rapid category and was able to pick up five points but Iloilo was just too much and tallied nine points.
Iloilo showed the same start they did against Rizal in the first four boards of the rapid category and quickly took the first four and was again capped off by an NM Parondo Jr. win in the last set.
With another sweeping PCAP game day, the Kisela Knights are now 6-0 in the round-robin and are 17-0 in total games played including the elimination phase.