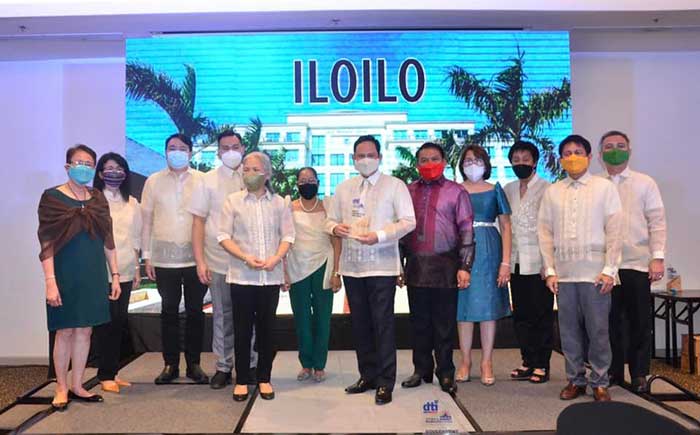 By Joseph B.A. Marzan
Iloilo province was named as the Most Competitive Province among the six provinces in Western Visayas by the Department of Trade and Industry (DTI)-6 regional office during its 5th Regional Recognition Ceremony on Monday, Dec 20, 2021, in Iloilo City.
The province's ranking is based on the aggregate performance of cities and municipalities under its geographical jurisdiction.
Local government units (LGUs) were judged based on four indicators – Economic Dynamism, Government Efficiency, Infrastructure, and Resiliency.
Economic Dynamism refers to activities stimulating stable expansion of business and industries, as well as higher employment.
Government Efficiency refers to the quality and reliability of government services and government support for effective and sustainable productive expansion.
Infrastructure pertains to the physical building blocks connecting, expanding, and sustaining a locality and its surroundings to enable the provision of goods and services involving basic inputs to production.
Resiliency is the responsiveness to different kinds of shock to ensure the sustainability of the LGUs' growth, measuring how local governments have prepared their area, environment, firms, and people on responsiveness, beyond man-made and natural disasters.
Iloilo Governor Arthur Defensor Jr., who received the award, passed on his congratulations and gratitude to town mayors, municipal staff, and barangay captains "for helping in these achievements".
"Our congratulations and thanks should be passed to you [mayors]. Like all the awards we have received in the past, it's not just the work at the provincial capitol, it is also [LGUs'] work, down to the barangay captains and municipal staff. All of our victories and all of our achievements are collective efforts," the governor said in his acceptance speech.
Defensor also gave an inspirational message earlier in the ceremony, where he shared that the coronavirus disease 2019 (COVID-19) pandemic made him realize that the borders they shared with neighboring provinces were "merely legal fictions".
The governor made this point to emphasize that more than competition, the province is seeking to collaborate with all its peers in the region.
"During the height of the imposition of border controls, the rule was any border restrictions or health protocols should not hamper trade and commerce. But we were monitoring all along, so we knew what kinds of trucks came in and out. It was then that we knew that what those trips were about, so we knew the products we need from the other provinces and vice-versa. [We] saw how our economies were intertwined, how we were dependent on each other," the governor said.
DTI-6 Regional Director Rebecca Rascon, chairperson of the Regional Competitiveness Council, said competitiveness should be felt to the seams of the communities.
The regional chief cited Iloilo province's efforts to improve economic competitiveness in all five districts and lauded the municipal mayors for their support.
"Competitiveness is not just complete data on file. Competitiveness is spreading the benefits around the town, the development to be felt not only in the urban centers, but also down the line to the barangays," Rascon said.
Rascon also paid tribute to those who suffered from the recent Typhoon Odette, and likewise cited the nature of Filipinos in "bouncing back", like there were no tragedies that occurred recently.
"We are here now, it's as if nothing happened, but this is really the nature of Filipinos, we always bounce back immediately when there are problems, hurdles, negative events, we are always ready to recover. There are a lot of those also affected, and we offer a moment of silence to remember them, those who have lost their houses, their family members, these are things that also affect us. This Christmas, remembering them is also sharing," she also said.
Iloilo City Mayor Jerry Treñas was represented by Local Economic Development Investment and Promotions (LEDIP) chief Velma Jane Lao, who gave the mayor's message that focused on the COVID-19 pandemic and the recent typhoon.
In Treñas' message cited the "indomitable human spirit", which he said translated to the pandemic response and vaccination rollouts, as well as the active response before, during and after 'Odette'.
"In Iloilo City, we doubled our efforts to ensure a sustainable recovery through strong public-private partnerships which were evident from the initial pandemic response up to the massive vaccination rollout which included the residents outside the city. Typhoon Odette, a category 5 storm has ravaged the homes of our people, but even before the storm took place, we stood up and delivered. Our command center, ICARE facilities, frontline personnel, and volunteers worked 24/7 to ensure the evacuation of vulnerable families and that they are provided with meals and food supplies," the mayor's message read.
TOWNS, CITIES
Several LGUs in Iloilo province also earned top ranks in the competitiveness pillars – Alimodian, Balasan, Bingawan, Guimbal, Mina, Passi City, and Sta. Barbara.
For Economic Dynamism, Guimbal (3rd to 4th class) and Mina (5th to 6th class) towns ranked first for 3rd to 4th class and 5th to 6th class municipalities, respectively, while Passi City ranked third for component cities.
Santa Barbara ranked first in the Government Efficiency pillar for 1st and 2nd class municipalities category.
The province swept all ranks in the same pillar for 3rd and 4th class towns, with Alimodian ranking first, Dingle in second, and Balasan in third.
Mina also ranked first in Government Efficiency for 5th to 6th class, with Bingawan ranking third.
For Infrastructure, Guimbal ranked second for 3rd to 4th class municipalities, while Pavia, Mina, and Passi City ranked third for 1st and 2nd class municipalities, 3rd to 4th class municipalities, and component cities, respectively.
In Resiliency, the province also raked in top ranks for 1st to 2nd class municipalities, with Tigbauan ranking first, Dumangas in second, and Cabatuan in third, as well as in the 5th to 6th class municipalities category, with Mina, Bingawan, and Batad ranking first to third respectively.
In the same category, Banate ranked first and Concepcion was in third for the 3rd to 4th class municipalities.
Janiuay and Igbaras towns had also been lauded as first rank in the Most Improved for 1st to 2nd class municipalities and 3rd to 4th class municipalities, respectively, with Banate likewise ranking third in the 3rd to 4th class municipalities category
Iloilo City also bagged the most competitive highly urbanized city for Government Efficiency.