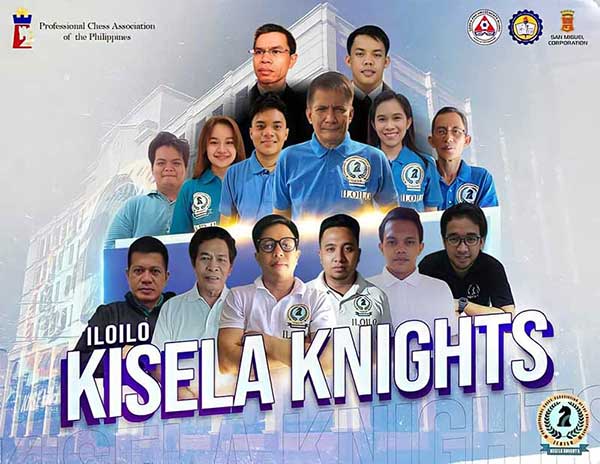 By Leobert Julian A. de la Peña
The Iloilo Kisela Knights remained undefeated and continued to roll in the ongoing 2022 Professional Chess Association of the Philippines (PCAP) Wesley So Cup.
Fresh off a sweeping game day against Surigao and Negros, the Kisela Knights notched their seventh-straight PCAP win and tainted Camarines-Iriga's record, 12.5-8.5, and edged Toledo, 12-9.
The same as their Day 3 results, the Kisela Knights had to pull off a collective effort after facing another day of tightly-contested competition.
Iloilo had a decent start during the blitz category but suffered back-to-back playing board losses that allowed Toledo to get back in the game and head into the rapid category with a slim 4-3 lead.
A back-and-forth exchange then happened in the next seven playing boards as Toledo answered every Iloilo win to stay within striking distance but GM Rogelio Antonio Jr.'s fourth board win gave the Kisela Knights the momentum and ended the rapid category with a two-board win in the last three.
Horizon Villanueva's clutch fifth board win against Toledo's Bonn Tibod gave Iloilo the edge capped off by a tie between NM Cesar Mariano and his foe.
Meanwhile, against Camarines-Iriga, Iloilo immediately went off to a hot start and grabbed the early 4.5-2.5 lead.
Camarines-Iriga responded in the next seven playing boards and earned back-to-back board wins but Iloilo countered with their own 4-0 run that gave them the 8-6 lead in the rapid category to seal another sweeping PCAP game day.
The Kisela Knights are still the no. 1 team in the Southern division with an impressive 7-0 record and are seeking to win their second-straight PCAP championship title.