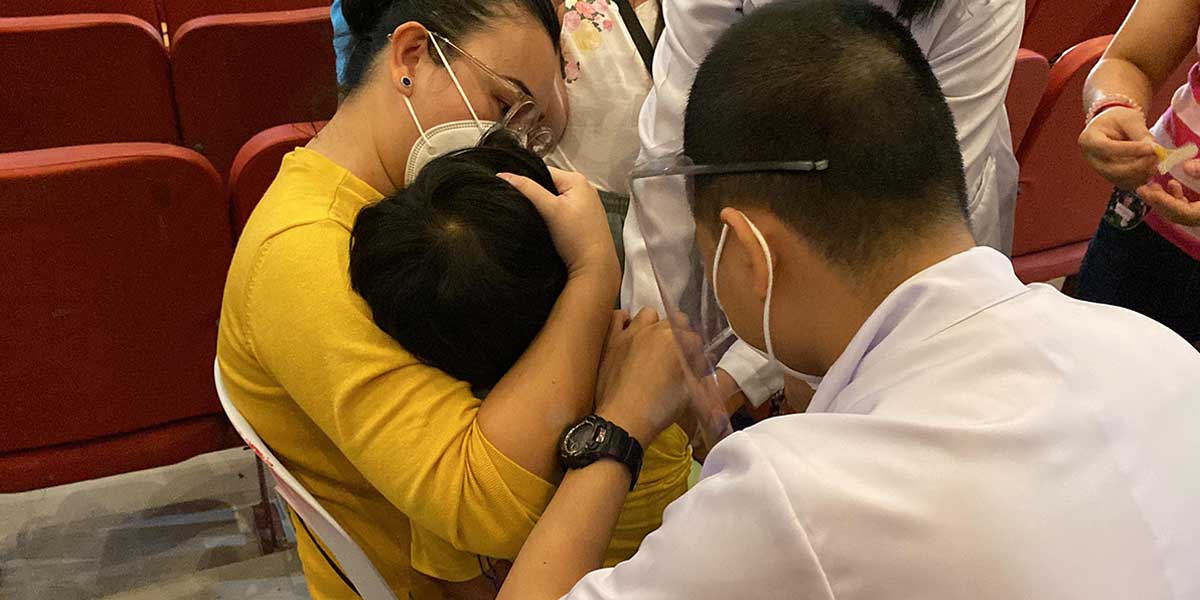 By Joseph B.A. Marzan
The Iloilo provincial government on Monday said it aims to use up the 10,000 doses of coronavirus disease 2019 (COVID-19) vaccines it received from the national government as it began the first dose inoculation for children aged 5 to 11 years old.
The provincial government's first round of jabs for the said age group simultaneously kicked off in three locations—West Visayas State University (Cultural Center (Iloilo City), Robinsons Place Pavia (Pavia), and the Aleosan District Hospital (Alimodian).
Thirteen local government units (LGUs) also launched their vaccinations in designated venues in their locality.
In a press conference at the WVSU Cultural Center, Provincial Health Office (PHO) chief Dr. Maria Socorro Quiñon said that they received 20,000 doses of the Pfizer vaccine (which is the only authorized brand so far for the age group) from the Department of Health (DOH).
Quiñon said that out of this number, the [National Vaccine Operations Center (NVOC)] only allowed the PHO to use 50 percent, or 10,000 doses for the first dose, while the remaining 10,000 would be allotted for the second dose.
While the provincial government does not have a daily target for the pediatric inoculation, Quiñon said she expects the 10,000 doses to be used up within the week.
"[T]here is an NVOC advisory that we can only use 10,000 doses and reserve the other half for the second dose. Hopefully, since we have 13 LGUs plus two sites here at WVSU and Pavia, and the Aleosan District Hospital, I believe that we can finish in a week's time the 10,000 doses," she said.
WVSU Vice President for Medical and Allied Sciences Dr. Celina Gellada, a pediatrician, said 8.7 million children have been vaccinated.
Out of this number, only 2.4 percent experienced mild side effects, and only 0.0013 percent with serious effects.
Gellada said that she hopes that parents brought their children to get vaccinated was "out of love", alluding to the kick-off falling on Valentine's Day.
"I hope that since today is Valentine's Day, parents who brought their children during this vaccination will do it out of care and love for their children because they want their children to be protected," Gellada said.
In his message, Iloilo Governor Arthur Defensor Jr. struck the same tone, saying that the vaccinations for the 5 to 11 age group was the provincial government's "gift of love".
"As we celebrate Valentines [Day] together with the whole province, the national government, and the whole country, we will give the gift of love, and for this year's Valentines, the gift of love is the [COVID] vaccine. This is the biggest gift-giving in the history of Valentines in this country," said the governor.
PARENT REACTIONS
Parents who were present at the kick-off also shared their experiences while having their children vaccinated and their insights on early childhood inoculations against COVID.
Yulie Viena, whose husband works in the provincial government, brought their 9-year-old son for vaccination, and she told media that her son really wanted to get the vaccine.
"It is very important [to have my children vaccinated] because it is for their safety and to protect their community from COVID-19. [My son] is aware of COVID-19 and its effects and he himself wanted to be safe and his number one reason is to be allowed to enter SM City [Iloilo]," she shared.
WVSU College of Business and Management Dean Ma. Corazon Samorin, whose whole family had contracted COVID last year, said she wanted to protect her three kids.
She also mentioned that the COVID vaccine is the latest "armor in their arsenal", citing that her kids have also received other vaccines in their earlier years.
"For us parents, me, my husband, my mother and sister, who are all adults, the effect of COVID was lessened because we were all fully vaccinated, so just in case, [the vaccination] is to protect the kids so if they can go back to school, they already have protection," Samorin said.