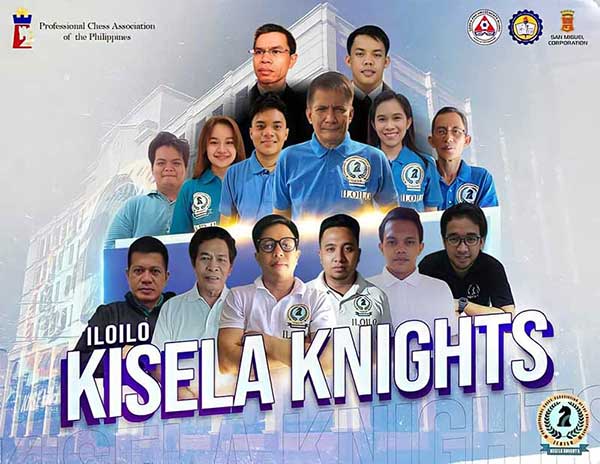 By Leobert Julian A. de la Peña
The Iloilo Kisela Knights cruised to another sweeping match day and notched their 10th-straight win in the ongoing 2022 Professional Chess Association of the Philippines (PCAP) Wesley So Cup.
With another back-to-back win, the Kisela Knights are now assured of the no. 1 spot in the Southern division when the PCAP playoffs kick off in the next weeks.
The dominant Kisela Knights squad topped off their stellar performances against Cagayan De Oro and Camarines-Iriga and handed Cebu and Palawan a twin demolition exhibition, 18-3, 16-5, respectively.
It was a walk in the park for the Kisela Knights after kicking off its duel against Cebu with a 7-0 sweep of the blitz category.
The Kisela Knights then continued its streak of board wins in the rapid category and swept the first five boards courtesy of GM Hovhannes Gabuzyan, Karl Viktor Ochoa, Fiona Guirhem, GM Rogelio Antonio Jr., and NM Rolly Parondo Jr.
Cebu managed to grab two board wins in the last seven playing boards but wasn't enough to spark a come-from-behind win against the rolling Iloilo team.
Meanwhile, a tightly-contested battle opened the fiery matchup between Iloilo and Palawan as both squads weren't able to take full control of the match and ended the blitz category with a 4-3 score.
However, Iloilo finally pulled away in the last seven playing boards spearheaded by a quick 2-0 win by GM Gabuzyan and Ochoa followed by a game-sealing four-board winning streak in the last matchups to end the rapid category with a 12-2 lead.
Iloilo will only have one remaining game in the elimination phase against the Tacloban but is already assured of the no. 1 spot in the Southern division regardless of the result.