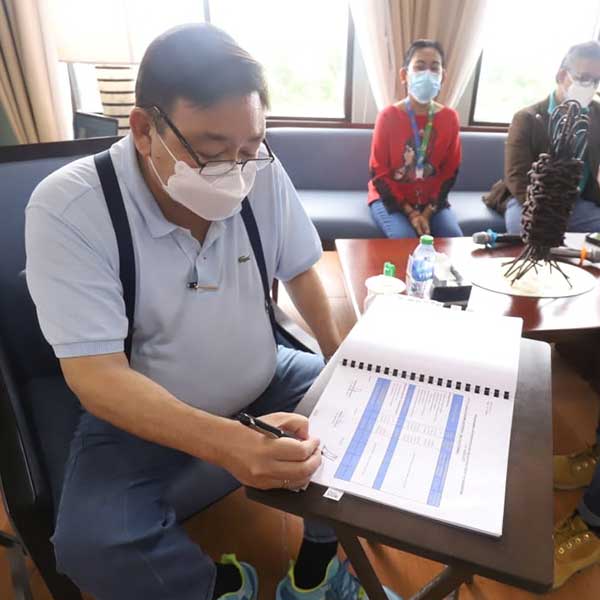 Iloilo City is proposing to spend P3.083 billion in 2022, which is 18.1 percent compared to the 2021 budget of P2.608 billion.
The increase is due to the city's bigger share of the National Tax Allotment (NTA).
"Despite the pandemic, our city's estimated receipts increased by at least 18.1 percent from the previous year's projections on account of our increased NTA share due to the implementation of the Supreme Court ruling on the Mandanas-Garcia cases," Mayor Jerry P. Treñas said in his accompanying brief of the 2022 Executive Budget submitted to the office of Vice-Mayor Jeffrey Ganzon.
In a copy obtained by the media on Tuesday, Treñas said the city reduced its projections from local resources in "anticipation of the decreased collections due to the permanent/temporary closure" of establishments operating in the metro due to the health pandemic.
The P1.607 billion NTA showed a 14.9 percent increase from this year's Internal Revenue Allotment (IRA) of PHP1.217 billion. The NTA replaced the IRA.
The NTA comprised 52.15 percent of the proposed executive budget, while P1.457 billion or 47.28 percent will come from local sources and the remaining 0.57 percent will come from the share in the economic zone, amounting to P17.5 million.
"Nevertheless, we are embracing a positive outlook and remain consistent in our vision to come up with a balanced budget without necessarily sacrificing our mandates," the mayor added.
In its expenditure program, 35.07 percent of the budget was appropriated for the maintenance and other operating expenses (MOOE), 33.67 for personnel services (PS), 23 percent for special purpose appropriations, 6.51 percent for capital outlay, and 1.71 percent for financial expenses.
Infrastructure projects aligned with the national government's Build, Build, Build program and expected to boost the city's economy get funding under the proposed budget.
It also contains the 12.5 percent hike in salaries and wages of job orders and contracts of services; allocation for the third tranche of the salary schedule of plantilla employees; and implementation of the index of occupational services, position titles, and salary grades in the local government; among others.
The city government is eyeing a P75.795 million budget for its Local Economic Enterprise, lower than this year's P78.819 million.
"We have adopted conservative estimates of our income for our economic enterprises, again, on account of the ongoing pandemic," the mayor said.
The executive budget was received by the office of Ganzon on Oct 8 for deliberation by the Sangguniang Panlungsod. (PNA)