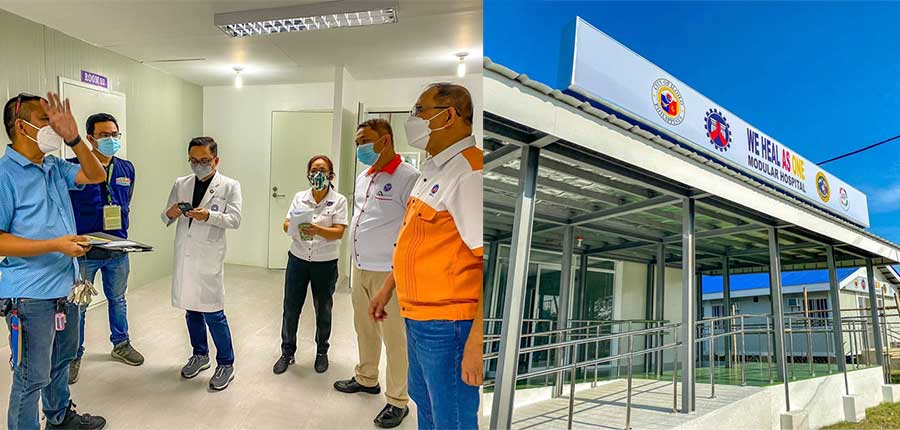 Iloilo City formally opened its modular hospital on Thursday at Brgy. So-oc in Arevalo district that will accommodate COVID-19 patients in the metro.
The 33-bed modular field hospital was constructed by the Department of Public Works and Highways (DPWH)-6 in partnership with the Department of Health (DOH) and The Medical City.
According to Iloilo City Mayor Jerry Treñas, the opening of the modular hospital is to ensure that the city will be ready for the surge of COVID-19 cases in the metro.
"On the verge of the pandemic, due to the high influx of COVID-19 patients both from the city and the province in our hospitals, I took the initiative to look for additional beds to cater to all our patients. The 33-bed Modular Field Hospital has opened to ensure that we are ready during a surge of cases. This had been my request since last year to help with our capacity," he said in a statement issued last Thursday.
The mayor added that the opening of the modular hospital will help in lowering the healthcare utilization rate (HCUR) of the city and eventually its quarantine classification.
Aside from the modular hospital, the city government has also opened other quarantine facilities to decongest the city hospitals.
"We also opened various quarantine facilities all over the metro to lower our healthcare utilization rate which will help lower our quarantine classification so we can move towards recovery. As the father of the city, I will remain proactive to ensure that we address all the concerns of the community," he added.
As of January 26, the city's HCUR is at 62.3%. City hospitals have augmented a total of 146 Covid-19 beds and 17 ICU beds to help lower the city's HCUR.
The Medical City Iloilo will manage the operations of the 33-bed Iloilo City Modular Hospital.
TMC Iloilo handle the training of the medical personnel, integration of the hospital information system, and provision of diagnostic services, among others.
"This partnership is TMC Iloilo's testament to serve the Ilonggo community. As a private healthcare institution, we desire to bring our quality services to everyone most especially during this time when we all need to unite and protect one another," TMC Iloilo Chief Executive Officer Dr. Felix Ray Villa said in a press statement.
TMC Enterprise President and CEO Dr. Eugenio Jose F. Ramos commends the Iloilo City Government for this initiative and hopes that the partnership will truly benefit the Ilonggo community.
"We are very elated to this kind of Public-Private Partnership. As a hospital known for having a patient-centered service philosophy, this partnership is so much aligned to our goal of making an impact to the community that we serve by making quality healthcare services accessible to everyone," Dr. Ramos said. (DG)