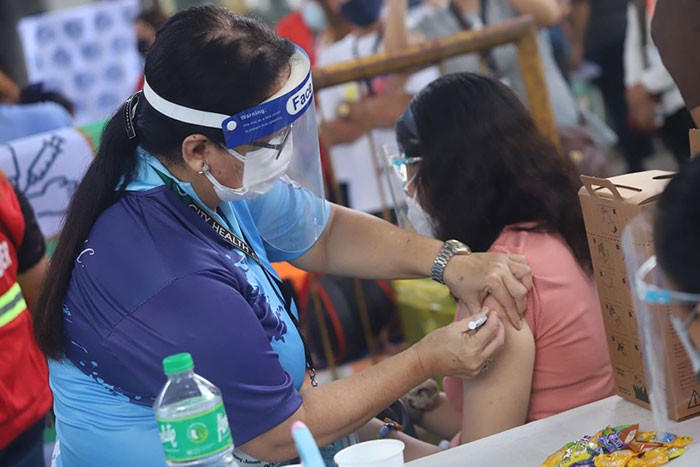 The Iloilo City government is expecting additional doses of China's Sinovac vaccines to arrive within this week.
According to Mayor Jerry Treñas, he personally contacted Covid-19 Vaccine Czar Secretary Carlito Galvez and Defense Secretary Delfin Lorenzana to ask for additional doses of Covid-19 vaccines for frontliners of the city government.
"Nagpasalig sila nga mahatag sila dugang nga vaccines kag basi maabot na subong nga semana. Ginapasalamatan man naton ang Department of Health (DOH) nga nagpadala sang bakuna para sa aton mga medical frontliners," he said in an interview Monday.
On Sunday, March 14, 2021, Iloilo City government commenced its vaccination roll-out for its medical fronliners at the West Visayas State University Medical Center.
Around 610 frontliners composed of medical technologists, nurses, doctors, medical responders and personnel of Public Safety and Transportation Management Office (PSTMO) were vaccinated of their first dose using Sinovac vaccines.
Among those who availed of the free vaccines were members of the Iloilo City Covid-19 Team like Uswag Molecular Laboratory Head Chiqui Biancaflor and City Covid-19 Team Chairman Dr. Roland Jay Fortuna.
Meanwhile, one of the Uswag Molecular Laboratory medical technologists, Kristine Grace Sumadic was the first to receive the Covid-19 vaccine on Sunday.
Sumadic, who had a first-hand experience of being infected with Covid-19 last year and now fully recovered, urged other frontliners to get vaccinated to lessen their risk of contracting the disease.
"Tungod isa ka frontliner kinahanglan mapabakuna gid para malessen ang risk. Ako kaagi na ko and nakadevelop na ako antibodies but nadula so hopefully makadevelop na liwat sang antibodies kay nakapabakuna na," she said in the Uswag Patrol program of the Iloilo City government.
Meanwhile, the mayor said he is positive with the increasing number of the city frontliners wanting to get vaccinated following the successful vaccination roll-out in the region.
"Importante nga may protection ang medical frontliners kay sila ni gaatubang sa tawo, kon may maabot nga dugang nga doses, we will continue because madamo na ang gusto magpa-injection," he said. (ERS)