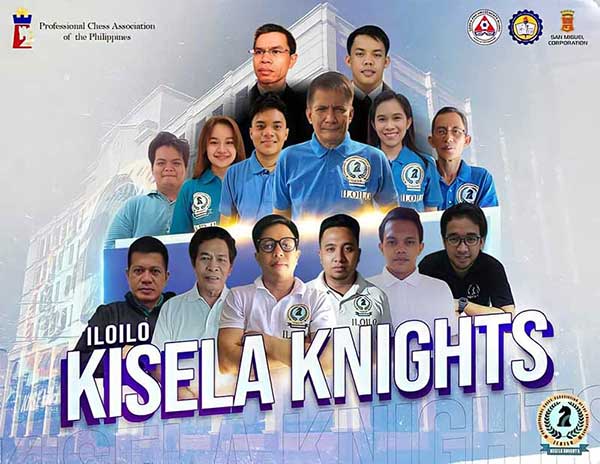 By Leobert Julian A. de la Peña
The Iloilo Kisela Knights returned to their usual form of sweeping match days in the ongoing 2022 Professional Chess Association of the Philippines (PCAP) Wesley So Cup after crushing Davao and Pagadian PCL.
It was a huge bounce back from the Kisela Knights after finishing their last inter-division round-robin match day with a 1-1 split including a tough 10-11 loss to the powerhouse San Juan squad.
The Kisela Knights wasted no time finishing their business and outplayed Davao, 14.5-6.5, and man-handled Pagadian, 16-5.
Iloilo survived an early scare at the hands of Davao after trailing in the first seven playing boards, 2.5-4.5.
The Kisela Knights had a shocking 0-3 start in the blitz category but later on earned much-needed wins from GM Rogelio Antonio Jr. and NM Rolly Parondo Jr.
A sudden offensive outburst from Iloilo spearheaded an impressive 12-2 scoring run in the rapid category that became the main reason for their effortless fight back.
Iloilo recorded five straight wins courtesy of WFM Cherry Ann Mejia, NM Cesar Mariano, and NM Fritz Bryan Porras, GM Antonio Jr., and NM Parondo Jr to close out the last seven playing boards.
Meanwhile, against Pagadian, the Kisela Knights immediately took the early lead and dominated in the first seven playing boards with a 6-1 score.
Iloilo continued to pour in the attack and racked win after win in the rapid category and grabbed full control of the match after another crucial 5-0 winning streak from the second to the fifth playing boards.
With another back-to-back winning match day, the Kisela Knights are still the no. 1 team in the Southern division and will have nine more remaining games before the 2022 PCAP playoffs kick-off.