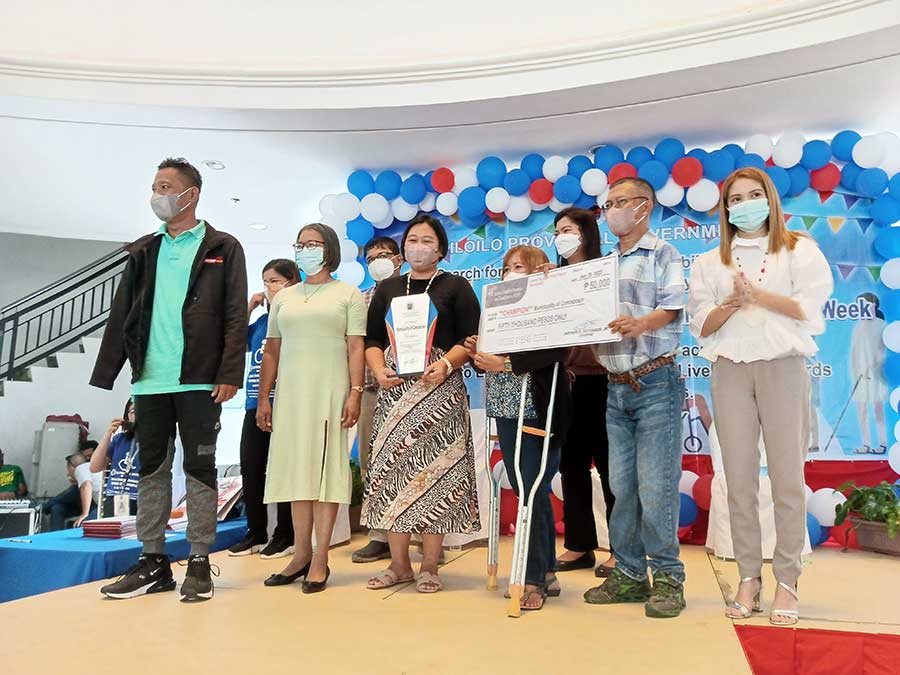 By John Noel E. Herrera
The Iloilo provincial government named the winners of the Search for Most Persons with Disability (PWD) Friendly Municipality as part of the celebration of National Disability Prevention and Rehabilitation (NDPR) Week at Iloilo Provincial Capitol on Friday, July 29, 2022.
Concepcion, Iloilo was hailed as champion and received P50,000 cash prize and a plaque of recognition.
Based on data, Concepcion has 931 PWDs which the municipality helped through various projects like programs in education, distribution of assistive devices and other livelihood and assistance grants.
The municipalities of New Lucena and Badiangan were declared first and second runners-up, respectively.
New Lucena received P30,000 cash prize and a plaque of recognition while Badiangan received P20,000 and a plaque of recognition as well.
According to the Provincial Social Welfare and Development (PSWD) Office, only seven of the 42 municipalities and one component city in the province towns qualified for the finals.
Badiangan, Banate, Concepcion, Leganes, New Lucena, Pototan and Zarraga were the only municipalities that were qualified after securing at least 70 points during the screening period for the contest.
PSWD also noted that its basis for determining the winners were the performances of municipalities from years 2019 to 2022 in terms of social services, health, institution and community building, and partnerships with non-government organizations which all centered on the welfare of persons with disabilities in their respective towns.
This was also the first time that the contest was held again after it was stopped in 2017.
PSWD Focal Person Ann Rapunzel Ganzon explained that as the province's new focal person, she reviewed the ordinances and resolutions passed by the provincial board and managed to revive the said contest after six long years as there is already an allocated budget for it and was hoping that it will already be held yearly.
Meanwhile, Board Member Carol Espinosa-Diaz lauded the efforts of various municipalities for the welfare of PWD's and told everyone that the provincial government is doing its best to protect the PWD's through the ordinances they passed just like amendment of definition of PWD which she authored and principally sponsored.
The amendment of definition of PWD expanded the coverage and those who can avail the benefits given to them which now include those who suffer from chronic diseases like Diabetes.