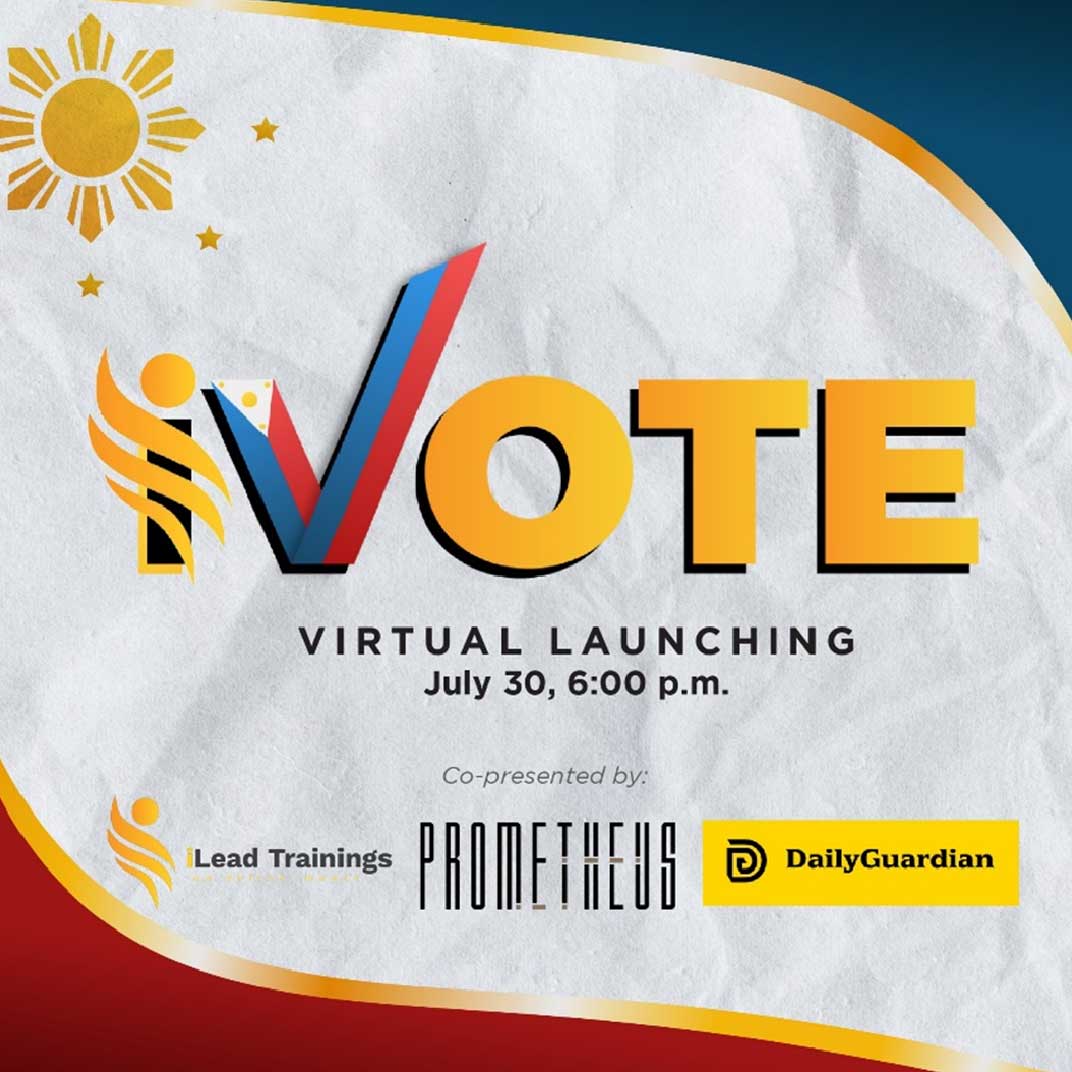 By Aila Kate I. Moreno
iLead Trainings spearheaded the virtual launching of iVote, a voter's education program last July 30, 2021.
Blessed Bea Plondaya, president emeritus of iLead Trainings said that the program is geared towards promoting voter education, voter registration, voter empowerment, and voter participation.
"iLead Trainings Inc. along with our partners initiated this iVote to tap first-time or inactive voters to practice their right to vote in the elections. We believe that taking part in choosing a new set of leaders in the country is one but very significant step in making sure that every Filipino has a fair share in enjoying the pleasure of a bright future," said host Kim Dignadice from iLead Trainings.
iVote program conducted a virtual panel discussion about voter education with the panelists Pambansang Pederasyon Ng Mga Sangguniang Kabataan (PPSK) President Ma. Angelica Bianca Requinto, Daily Guardian Vice President External Lcid Crescent Fernandez, and Former Commissioner of National Youth Commission Jo Jan Paul Peñol.
The program also included BTSM (Boto Tayo sa Mayo 2022), a satellite voter registration that will be held on August 21, 2021, from 8:00 AM to 4:00 PM at the University of the Philippines Visayas City Campus.
Registrants must comply with the following requirements:
At least 18 years old on or before May 9, 2022
A resident of the Philippines for at least one year
A resident of the place where they propose to vote for at least 6 months on or before election day
Registrants must bring valid IDs, photocopy of birth certificate (for new registrants), pen, accomplished voter's registration form (3 copies printed in long bond paper), and accomplished health declaration form.
The first 100 registrants will receive free McDonald's meals as an incentive.
Along with this, the program also offers voter's education webinars, HINUN-ÀNON: IVOTE (Ala Siyete y MEDIA: A Talk Series with the Sibs), Town Hall, and Public Forum, and Social Media Awareness.
The program was made possible in collaboration with Prometheus, Daily Guardian, USA Sigma Alpha Lex, Tyempo Naton. Movement, Sangguniang Kabataan Province of Iloilo, and JCI Regatta.
WHY REGISTER NOW?
In a Zoom cloud meeting, the panelists emphasized the importance of exercising the right to vote.
"We are represented by our leaders in our respective barangays, municipalities, and of course, our country. So let's not miss this opportunity to improve our communities and [their] systems by being involved in choosing the right leaders [for this] 2022 elections," said Requinto.
Meanwhile, Fernandez gave three reasons on the importance of being a registered voter: (1) to help other people, (2) it affects the youth, (3) it affects the people in general.
He noted that practicing one's right to vote affects the whole nation and is equivalent to helping other fellows as people tend to vote for the kind of government that is leaning towards the betterment.
"So our legacy, how we impact this earth, how we impact our own country is determined by this singular expression of democracy… so I believe that we should, in fact, vote and exercise our right to vote. Not only because we are powerful, but because of the impact and the effects that we may have. Even if we don't win, it's still an expression of what kind of governance we want," Fernandez added.
Moreover, Peñol stressed the "pressing problems" of the country in politics, economics, education, foreign affairs, health, and local governance as a "motivation" for young people to vote.
"Ang nakit-an naton nga mga problema dugay na ini, no? Let these problems be our motivation of young people to register. Makuntento bala kita nga amo ni pirmi naagyan naton?… Young Filipinos watching us tonight, please listen. Every election time we shout out for change. Well if you believe you are that kind of change, then become one," he said.
VOTER'S RESPONSIBILITY
            Requinto reminded the youth to be curious in order to become well-informed voters.
"We all need to be informed. We all need to read the political issues on [the] local and national level and also, to figure out various stand and know what your advocacies are. We need to be more curious, kag kinanglan naton mag-ask ka questions for us to be aware of what is really happening in our country. Kag we should always do our individual research and at the same time we must also fact check our information and seek out sources that are proven reliable and trustworthy… There's usually one candidate na ga-represent sang inyo mga advocacies and also interests better than the others and it's also important to know that what your advocacies are and what advocacies you want to be prioritized," she said.
She asked the youth to use their social media platforms such as Facebook, Twitter, and Tiktok to motivate people to vote and speak about the issues that need to be discussed.
Furthermore, Fernandez advised people to "vote for the plan" rather than "the person saying the plan."
"We need to relearn that politicians are not celebrities. They're not idols. They're public servants. So we can demand them to fulfill their promises. We can demand that they mean what they say. We can demand that they be the people that we thought they were. We can demand that they follow their plans. And to be honest, if they follow their plans, it almost doesn't matter what people they are because you are voting for the principle, the idea, the story. You don't vote for the person," he said.