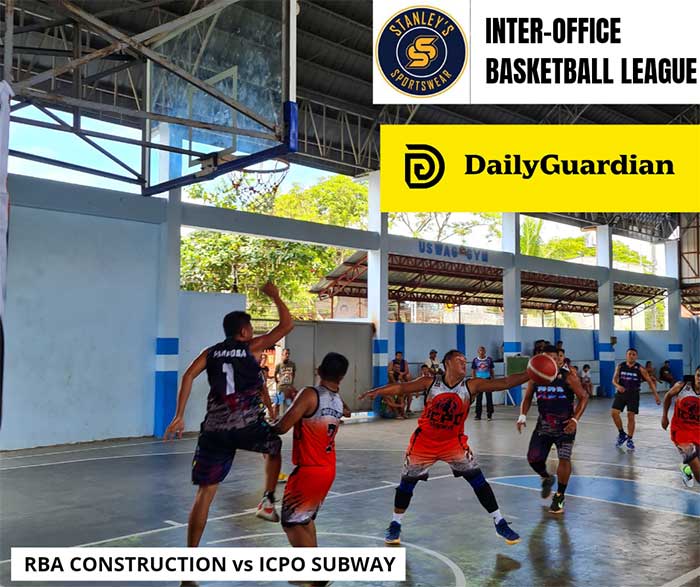 By Leobert Julian A. de la Peña
The ICPO Subway successfully protected its twice-to-beat advantage against the resilient RBA Construction team after taking care of the do-or-die semifinal Game 2, 97-85, during the 2022 Stanley's Sportswear Iloilo Inter-Office basketball tournament.
After receiving its first-ever loss of the season when RBA got the better of them in Game 1, the ICPO Subway squad flipped the switch and bounced back in Game 2, setting up a highly-anticipated championship series against the undefeated ICPO Subway.
ICPO banked on their tight defensive game in the first half of action after limiting RBA to only 35 points with them scoring 65 in just two quarters.
However, RBA had an answer in the second half and decided to switch to man-to-man defense that changed the complexion of the game in their favor.
RBA got themselves back in the game after several defensive stops and capitalized on ICPO's turnovers that were converted into buckets on the other end.
Just when RBA thought that they can snowball their way in the final canto, ICPO countered and began heating up that helped them keep their double-digit lead.
RBA attempted to mount one last offensive run after sinking a barrage of three-pointers but ICPO always had answers and avoided a meltdown in the last two minutes of the game.
Darry Celeste led the way for ICPO and earned a game-high 20-point performance with six rebounds, two blocks, and one steal.
Despite the loss, RBA will still have one more chance to make a lasting impression when they clash with the ICPS1 PNP in the battle for third match.
Meanwhile, the ICPO squad will have a week off before taking on the tough challenge of cracking the SWAT Subway code.
Mr. Jojo Castro is the tournament consultant while the living legend Mr. Abwe Estenor is the league commissioner.