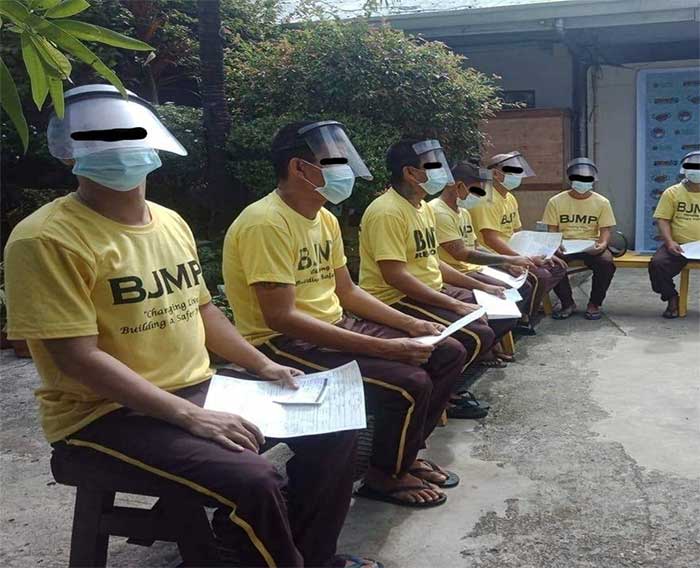 By Karen Joyce Pumaren
After two months in quarantine isolation, an inmate of the Iloilo City District Jail-Male Dormitory (ICDJ-MD) who tested positive for COVID-19 recovered to tell his story.
Homer Morales, a 27-year-old person deprived of liberty (PDL) at ICDJ-MD, detailed his COVID-19 journey to recovery.
Jail situation and COVID-19 acquisition
Months before the deadly enemy ravaged the country, Morales was sent to prison for substance abuse. A year later, he was in isolation not for violating prison rules, but for coronavirus infection.
Morales said he and other PDLs in the same cell were isolated after the death of another prisoner who contracted COVID-19 quarter.
"Napatyan kami diri sa amon selda, kag nabal-an positive siya sa COVID. Sang nagwa ang result, diretso gin-quarantine kami," Morales said.
He added that 30 inmates were in their cell alone, thus, the likelihood of infection was high.
"Nag-worry gid ako nga mag-positive kay sa selda namon sobra kami sa trenta nga daan," Morales said.
Jail Chief Inspector Denver Beltran, ICDJ-MD warden, acknowledged that prison overcrowding, which increases the risk of virus transmission, is the primary concern in their jail facility.
"Our number one challenge in the jail facility is the high number of inmate occupancy. The facilities are congested making it hard for us to implement social distancing among the prisoners inside, the one-meter distancing protocol is hardly to not be achieved," Beltran explained.
MANAGEMENT AND ISOLATION
Consequently, Morales' worries intensified during the initial days of his quarantine when he started losing his sense of smell and taste, which are common COVID-19 symptoms.
"Sang gin-isolate kami, amat-amat nga indi na ako kapanimaho kag makapanabor. Sang nag-abot ang result kang swab didto ko nabal-an nga positive ako sa COVID," Morales said.
After testing positive, he was relocated to another BJMP quarantine facility in Dumalag, Capiz.
"One month kami gin-quarantine sa ICDJ-MD, pag-abot sang positive swab result ko gindala ako sa facility sang BJMP sa Dumalag, Capiz," Morales added.
Jail Chief Inspector Beltran said the Bureau of Jail Management and Penology-Region 6 has separate facilities for COVID positive inmates and newly admitted PDLs.
"The BJMP Regional Office 6 has this so-called Panay Isolation Facility and Negros Isolation Facility. These are facilities intended for newly admitted PDLs, before they enter the jail facility they must first be quarantined there. For those COVID positive inmates in different jail premises in the region, the office provided them with another area for isolation which is called Ligtas COVID Centers," Beltran said.
Morales said that jail officers aided the PDLS in their recovery by providing them with supplements and allowing them regular exercise.
RECOVERED AND VACCINATED
After a month of quarantine in Capiz and beating COVID-19, Morales was taken back to ICDJ-MD.
"Pagkatapos sang 31 days sa quarantine sa Dumalag, sige-sige nga Vitamin C kag pagpabaskog sang resistensiya, nagnegative ang result sang akon ng swab test kag ginbalik nila ako sa ICDJ-MD," Morales said.
Now, Morales belonged to the 98% fully vaccinated PDLs in ICDJ-MD, according to Jail Chief Inspector Beltran.
"98% of our PDLs in ICDJ-MD are fully vaccinated, the remaining 2% are those newly admitted PDLs. Meanwhile, our jail officers and personnel are 100% vaccinated," Beltran said.
Jail Officer 1 Ezra Miles Brinan Jagorin, RN., from BJMP-6 Health Service Division, added that the total percentage of vaccinated PDLs in the region reached 94%
"By far, through the collection of data of the regional office, the total percentage of PDLs who received COVID-19 vaccination is 94% and the remaining percentage pertains to the newly committed. And also 100% of our jail facilities are awarded with safety seals," Jagorin added.
Citing his COVID-19 experience, Morales encouraged everyone to make health a top priority and adhere to government protocols to have a less challenging COVID-19 journey.
"Health ta ang pinaka-importante, maghalong kag magsunod sa health protocols. Labi na gid magpabakuna," Morales expressed.
Karen Joyce Pumaren is a Communication and Media Studies student of UP Visayas