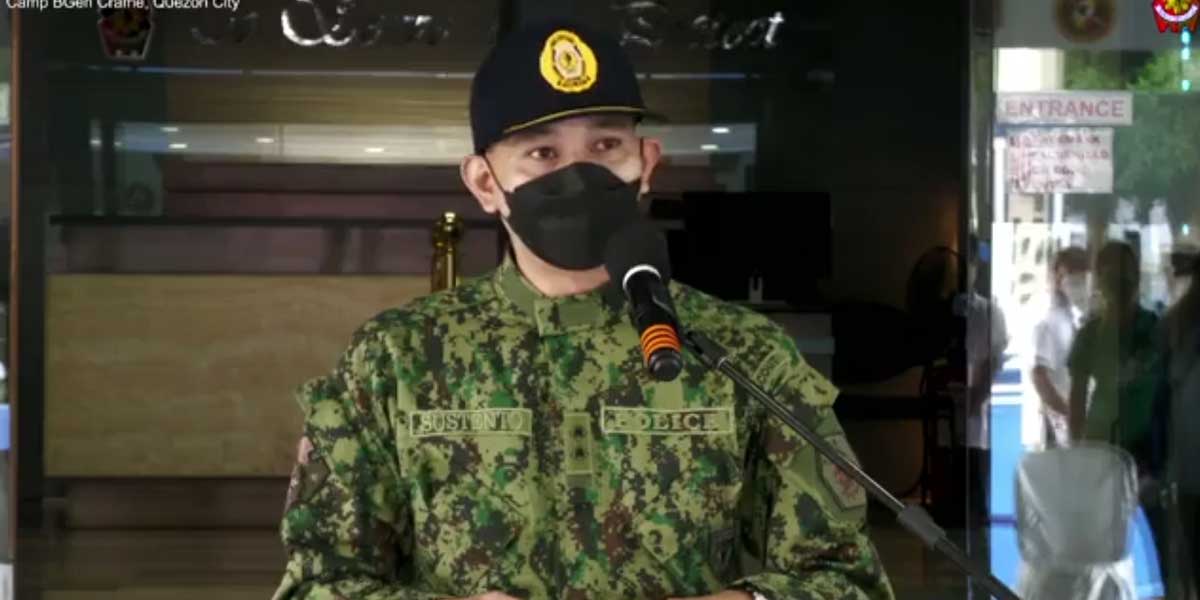 By Jennifer P. Rendon
Cliché as it might sound, "as long as we are human, we are bound to make mistakes."
Days after facing the local media, Iloilo-based policemen Lieutenant Colonel Jonathan Pinuela and Captain Charlie Sustento Jr. faced a bigger audience.
From the grounds of the Iloilo Police Provincial Office (IPPO) headquarters in Camp Sumagaysay, Sta. Barbara, Iloilo on Jan 20, 2022, they were transported to the deck of the PNP national headquarters at Camp Crame, Quezon City six days later.
But far from the emotionally charged press conference they held in Iloilo, Pinuela and Sustento appeared somber as they faced the PNP Press Corps.
Before Sustento read their joint statement, PNP chief Dionardo Carlos first made his remarks saying that they called for the press conference "for an apologetic note to express our highest respect to the Ombudsman, particularly for the Office of the Deputy Ombudsman for Military and Other Law Enforcement Offices (MOLEO)."
Carlos referred to the press conference called by Pinuela last week to express his dismay over the decision of the Office of the Ombudsman finding him guilty of conduct prejudicial to the best interest of the service.
After Pinuela read his prepared statement and answered queries from the media, Sustento claimed that the Ombudsman mulcted money from him. He also accused the Ombudsman of corruption and hurled the expletive, "p_t_ng ina."
In 2017, Sustento and three of his men were found guilty of the charges of Grave Misconduct and Conduct Unbecoming of a Police Officer.
The decision was signed by Emmanuel Ringpis, Jr., Graft Investigation and Prosecution Officer II, dated June 28, 2017. They were ordered dismissed from the service, but a decision of the Court of Appeals modified the penalty to one rank demotion.
Sustento claimed that someone from the Office of the Ombudsman asked for P1 million when he filed for his motion for reconsideration.
In Wednesday's press conference at Camp Crame in Quezon City, he read a prepared statement.
"I, Police Capt. Charlie Sustento Jr., would like to apologize to the Office of the Ombudsman and to Honorable Justice Samuel Martires, for my emotional outburst last January 20, 2022 during the media interview in Iloilo City," Sustento said.
"It was never my intention to tarnish the Ombudsman as an institution that is considered as the defender of rights and protector of truth.  Hindi po ibig sabihin na buong organization ng Ombudsman ang inaatake namin. Gusto lang din po naming mabigyang linaw ang mga pinataw na suspension order laban kay Police Lt. Col. Pinuela who is my classmate," he added.
Sustento then asked to the Office of the Ombudsman if it's possible to review the cases of his fellow policemen, especially those who are facing police service-related cases.
"Nakahanda namon po kami ng aming kampo na magbigay ng karagdagang ebidensya at pahayag kung kinakailangan. Muli, ako po ay humihingi ng paumanhin kay Sir Samuel Martires at sa boung Office of the Ombudsman," he said.
Sustento justified that the said outburst "was a result of the seemingly unjustified decision against a good friend, a classmate, and an accomplished police officer Lieutenant Colonel Jonathan Pinuela who was suspended for six months after conducting a checkpoint as part of the campaign towards an honest and credible election in Dumangas, Iloilo last 2019."
But based on the Ombdusman decision on Pinuela's case, the incident did not happen in a checkpoint.
Instead, it happened in front of a building while Pinuela and his wife came from their farm in Banate. He saw a man he suspected to be into vote-buying. When he checked the complainant's bag, it only contained clothes and personal effects.
Sustento went on that the "suspension came as a shock considering that I, too, was a victim of such injustice. Hindi lingid sa kaalaman ng mga Ilonggo na kababalik ko lang sa serbisyo matapos din ng Office of the Ombudsman last 2017 dahil sa isang maliit na reklamo na bunga ng isang legitimate police operation din."
"Human as I am, I was deeply disappointed by my dismissal which was not commensurate with the alleged act that I was accused of. I am happy that the Court of Appeals saw the facts and returned me and my men to uniformed service," he added.
Sustento said Pinuela's suspension brought back memories of his previous legal quandary.
"Sa pagkakasuspende sa akin at sa aking matalik na kaibigan, na classmate ko na si Lieutenant Colonel Pinuela, ay nabalik sa aking alaala ang inhustisya na aking naranasan. Nakita ko kung paano umiyak ang classmate ko during the press conference at bilang isang kaibigan, nasaktan ako sa kanyang pinagdaanan at alam na alam ko po kung ano ang kanyang naramdaman at kung ano ang kanyang pingdadaanan bilang isang breadwinner sa kanilang pamilya kaya marahil nasabi ko ang hindi dapat," he said.
He also apologized to the Philippine National Police leadership "for dragging the organization in this matter."
"We will submit ourselves to any investigation and PNP disciplinary mechanism that the PNP may initiate regarding this. Again, I, Police Captain Charlie Sustento, Jr. is deeply sorry to the Office of the Ombudsman for what we had done. I hope that the Office of the Ombudsman will strive to uphold justice and fairness lalo na sa mga kawani ng gobyerno na ang hangad ay magsilbi lang sa bayan," he said.
KEEPING A DISTANCE
Carlos revealed that it was Interior and Local Government Secretary Eduardo Año who instructed him to immediately address the concern of the Ombudsman.
"I told the Secretary that I am heading for Iloilo to personally talk to our officers concerned. So there was also a letter sent to us by the Ombudsman pertaining to the statement made by the two police officers," the PNP chief said.
Carlos, who visited Iloilo City on Jan 24, 2022, also pointed out that the statement made by Pinuela and Sustento during their press conference in Iloilo "were purely an expression of their personal views and opinion and do not reflect any official policy or action of the PNP."
It was for that reason that he requested the two to travel with him in Camp Crame "so they can express their statement here at the headquarters pertaining to the issues raised during their presscon."
"And I believe, after talking to them, a public apology is in order. The Office of the Ombudsman deserves all the respect as an institution that promotes good governance and proper behavior among workers in the bureaucracy. As such, we cannot afford to be tainted and maligned with serious accusations that will affect its integrity," he added.
After Sustento made his statement, Carlos said he explained to the officers how they can avail of the PNP's grievance and disciplinary mechanism instead of getting emotional.
"They were really apologetic and remorseful because it was really the emotion na nangibabaw sa kanila. Kaya sa utos ng ating Secretary, Secretary Ed Año, personal akong nakipag-usap sa dalawang opisyal and explained to them the disciplinary mechanism and the grievance mechanism that we have in the PNP and yun po ang kanilang desisyon to subject themselves to the proceedings of the organization," he added.
Carlos also apologized to the Ombudsman over the brouhaha.
Further, "bilang hepe ng pambansang polisya, humihingi po ako ng paumanhin sa atin pong Ombdusman at sa buong hanay at kasapi ng Ombudsman sa nangyaring ito. Kami po ay tatalima doon po sa direktiba. Katulad po nito na service-related, tutulungan po natin sila na maibigay ang tama sa ating mga miyembro."
OMBUDSMAN CRIES FOUL
In a rare occasion, Martires granted an interview to a local radio station following the accusations hurled by Pinuela and Sustento against the Office of the Ombudsman.
In an interview over Bombo Radyo-Iloilo Saturday evening (Jan 22, 2022), Martires claimed that the case against Sustento was decided before his stint as Ombudsman.
In the case of Pinuela, he claimed that it was not Ombudsman-Luzon that handled the case, as what the former claimed that decided on his case. Rather, the Ombudsman for the Military and Other Law Enforcement Office (MOLEO) investigated and decided on the case.
Ombudsman-Luzon handles graft and corruption cases against government officials based in Luzon. The MOLEO, while based in Metro Manila, handles cases against military and other law enforcement officers all over the Philippines.
"I just wish that sana ay binasa ni Police Lieutenant Colonel Pinuela ng maigi, nag kunsulta s'ya sa abogado and nagtanong sya sana kung bakit ang nagdesisyon ng kanyang kaso ay yung MOLEO. Hindi Luzon ang nag desisyon ng kanyang kaso," Martires said.
The decision on Pinuela's case dated August 23, 2021 was penned by Stephanie B. Tabladillo-Yanson, MOLEO Graft Investigation and Prosecution Officer.
Martires also tackled the issue raised by the two police officers that a local politician, who allegedly has connections with the Office of the Ombudsman, was behind the "harassment" cases against them.
Martires narrated that since the pandemic started March 2020 until now, no one is allowed at the office of the Ombudsman.
"Walang bisita. Walang pwedeng mag-deliver kahit na 'yung mga Shopee, Lazada, o kung anumang delivery," he said.
Those who want to file complaint would be allowed at the records and receiving sections. For those who would file clearances, the Ombudsman has a drop box outside the offices where they could fill their applications.
"So, the protocol since March 2020, is the public is not allowed to enter the premises of the Office of the Ombudsman. Even the employees, mayroong schedule kung sino ang papasok. Paano naglakad ang sinasabi nilang pulitiko?" he quipped.
A former Supreme Court justice, Martires said that the only politician he knew from Iloilo is Senator Franklin Drilon.
"I don't even know your city mayor. I've been to Iloilo in 2018 and 2019 for several times, I don't know your city mayor. Wala akong kilalang congressman sa Iloilo.
So, sino yung naglalakad? Panahon ko na 'yung 2020 na kaso ni Pinuela. Sino ang naglakad sa akin? Sa akin ba naglakad?" he said.
Given that the accusations are sweeping, "they owe the public to name names kung sino ang kinausap ng pulitiko," he said.
Again, Martires asked the two police officers to name names.
"Napakinggan ko ang interview kay Sustento, I'll be honest with you, that is unfair. We don't like what he said. That's why we're also doing an investigation of what he has been saying. Hindi pu-pwede 'yung ganoon eh. Magsalita ka. Hindi pu-pwede 'yung ganoon eh. Pagpasensyahan mo na ako pero hindi maganda 'yun," he said.
If they wouldn't name names, the public is likely to assume or guess, which makes all employees of the Office of the Ombudsman vulnerable.
"That's unfair. If they find the decision unfair, I find it also unfair to the officers who signed the decision. It's unfair to accuse without naming names. Let them name names," he said.
And as a promise, "I would not bat an eyelash, any employee or officers in the Ombudsman who is involved in any anomaly, ipapaalis ko sa serbisyo."
Martires said he is doing everything he could to serve and the corrupt accusations are unfair.
He said that people should not make generalizations in their accusations.
"Pangako ko sa kanila at sa mga kaibigan ko dyan sa Iloilo, tatanggalin ko sa serbisyo kung sino ang kasabwat ng Congressman. Sabihin lang nila kung sino," he vowed.
Martires said that words are empty if they wouldn't point to the Ombudsman employee who allegedly connived with a politician.
He also assured that despite what happened, he wouldn't take it against Pinuela and Sustento if they name names.
"Pangalanan nila sino ang mga taong yun. Ang mga ombudsmn corrupt. Ang mga taga Ombdusman pera-pera lang. 'Yan ang sinasabi niyo diyan sa Iloilo eh."
He then pointed out that that there are people in the government who serve well.
"I just would like the people to know also hindi lahat ng nasa gobyerno ay nabibili ng pera. Wala namang gamit ang pera ngayon pandemic eh. Saan ka pupunta kahit maraming pera? Hindi lahat ng kawani sa gobyerno nakukuha sa pera," he said.
Martires said he needed Sustento and Pinuela's help to substantiate their allegations and accusations.
"Makakaasa ang dalawang pulis na yan ng patuloy naming serbisyo. Makakaasa sila na ang kaso nila ay titingnan ng maigi," he said.