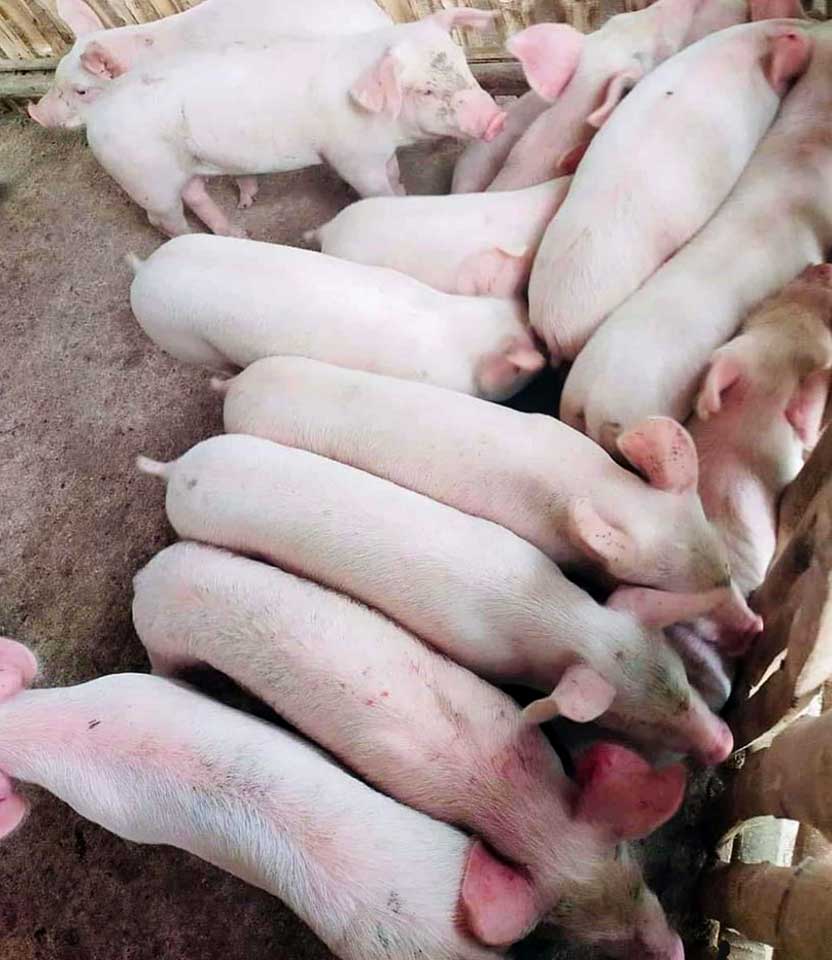 Backyard hog raisers in Iloilo province including those from the different areas in Panay Island are contemplating on staging a "hog strike" as price of live hog continues to drop amid the high cost of hog feeds and other agricultural commodities.
Due to the significant drop of the farm gate price of livehogs amid the high cost of hog feeds, small backyard hog raisers are left with no choice but to hold their live hogs unless prices stabilize.
Currently, the average live hog price ranges from P120 to P135 per kilo in Iloilo province.
In Passi City, Engr. Robert Nelson Chua, a backyard hog raiser from the province said that the live hog is priced at P125 per kilo.
Meanwhile, "Eusuya Backyard", another backyard hog raiser from the province said that despite the drop of live hog price, prices of feeds continue to rise ranging from P1,750 to P1,850.
Hence, backyard hog raisers are demanding that buyers agree to the farm gate price of P150 per kilo of their live hogs.
"Daw gapinagusto na lang ang mga buyer sa pasaka ka presyo. Kon nubo sa 80 kilos buynan pa gid nila ang presyuhanay. Ang feeds naman sige lang ka saka kag this week gasaka naman. Kaunfair man na sa amon nga mga hog raisers," Eusuya lamented.
Chua on the other hand described the situation of backyard hog raisers in the province as "miserable". He lamented that due to high production cost and low hog price, there is no more profit to speak of as the price is not enough to sustain the high production cost.
"Tama gid kanubo kang aton nga presyuhanay. Ang kabudlay sang mga hog raisers kag ang ila labor, indi na kabayad bangod tam-an ka mahal ang input kag barato ang pagbakal," he said in an interview with Radyo Pilipinas Iloilo on Wednesday.
He explained that hog raisers rely on their income to cover their family expenses particularly the tuition of their children.
"Ginakabig kang aton nga mga hog raisers nga daw alkansya ang mga hogs. Kay amo ini ginagamit nila pambayad tuition sang ila mga kabataan. Ugaling subong, wala na alkansya bangod manubo na gid ang presyo. Kon kaisa kay kinahanglanon gid sang farmer sang balayad sa tuition, maskin nubo na gid ang presyo sang ila baboy, ginapagwa na lang," he said.
Meanwhile, the Department of Agriculture in Western Visayas (DA-6), said that the drop of live weight of hogs and the increase of hog feeds can be attributed to the domino effect of the high fuel prices and high inflation rate.
According to Maria Teresa Solis chief of Agribusiness and Marketing Assistance Division of DA-6, the price of agricultural commodities is greatly affected by the surge of fuel prices especially in terms of processing and transport costs
"Domino effect kay mahal subong ang gasoline for sure mamahal man ang agricultural commodities. Isa ka factor ang agricultural commodities nga mahal so that's why mahal ang feeds, transport cost, processing cost, affected gid tanan," she said in an interview on Thursday.
Solis added that hog imports have also contributed to the drop of live hog price. Aside from this, the hog industry in Luzon is now recovering and the producers no longer rely on live hogs from other provinces.
"Instead of buying fresh slaughtered hogs, consumers didto na sila sa big supermarkets kay lower price kay imported ila hogs. Last year kay wala production sa Luzon, wala supply, mataas ang presyo. But subong, amat-amat na balik ang hog growers so may other sources na sila. Didto na lang sila gakuha kay lower transport cost," she explained.
Meanwhile, DA-6 Regulatory Division chief and focal person for the Western Visayas Inter-Agency Task Force for Animal Diseases Dr. Jonic Natividad reminded the hog raisers to look at the possible implications of hog strike.
"Tan-awon anay nila ang implication in the future sa mga manogbaboy whether positive or negative, ang implication. Basi bala ang matabo, maoversupply or makulang ang supply and ang ending mas mabarato pa ang presyuhanay," he said. (DG)