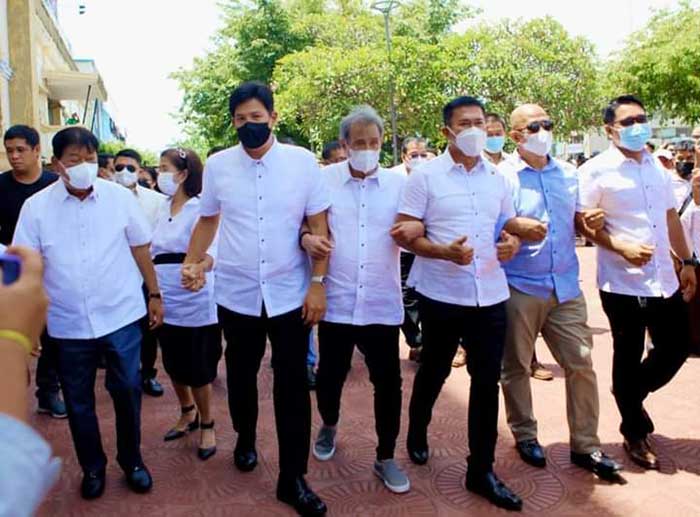 By Felipe V. Celino
ROXAS CITY, Capiz – Basic health services and more infrastructure projects are among the top priorities of Capiz Gov. Fredenil "Oto" Castro.
In his speech during Thursday's inauguration held in front of the provincial capitol, Castro said that he will ask the new set of the Sangguniang Panlalawigan (SP) of Capiz to pass the 2022 provincial budget in July or August so that it could be used immediately.
The governor said that he will prioritize financial assistance in the form of scholarship, hospital, and burial assistance.
He will also give priority to the plight of farmers and fishery sectors due to high prices of agricultural supplies by providing them assistance that will increase their production.
Castro chose to take his oath in front of the Capiz capitol to inform the public that the provincial government is open to all and ready to serve them.
He also asked for a united government by setting aside political color.
"No more color. Even if you are identified as a supporter of the red, yellow, blue, green or pink, you are welcome at the capitol," Castro said.
Castro took his oath of office before his daughter, Dumalag town Mayor Ma. Concepcion "Koko" Castro.
In the same occasion, reelected vice governor James "Mitang" Magbanua and reelected and incoming members of the provincial board also took their oaths.
Reelected Roxas City Mayor Ronnie Dadivas, incoming vice mayor Teresa Almalbis and reelected and incoming city councilors also took their oath of office in front of the Roxas City Hall before the governor.
Also joining the oathtaking were reelected first district Rep. Emmanuel "Tawi" Billones Sr. and second district Rep. Jane T. Castro, the wife of the new governor.
The elected municipal officials of Tapaz, Panay and Mambusao also took their oaths at the provincial capitol ground.
A thanksgiving mass was held 8 a.m. at the Roxas City Metropolitan Cathedral prior to the activities.
The ceremonial turnover of documents followed the oathtaking between acting provincial administrator Francisco Dariagan and incoming provincial administrator Atty. Arthur John Binas.