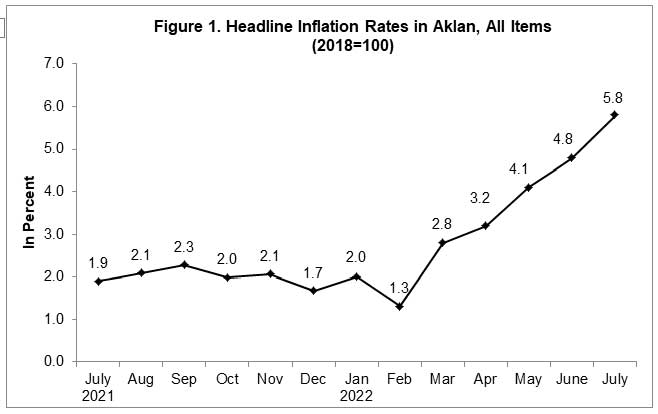 Aklan's headline inflation hit 5.8 percent in July 2022, faster by 3.9 percentage points than 1.9 recorded in July 2021, according to the Philippine Statistics Authority (PSA)-Aklan.
Inflation rate is the annual rate of change or increase in the consumer price indices of goods and services.
Consumer Price index (CPI), on the other hand, is an indicator of the change in the average retail prices of a fixed basket of goods and services commonly purchased by the households relative to a base year.
It further increased from 4.8 percent inflation in June and posted the highest inflation from the series of results since March 2020.
The upward trend was primarily due to faster annual rates of food and non-alcoholic beverages with 9.1% from 7% in June; furnishings, household equipment and routine maintenance spike at 7% from 0.5% in the past month; and transport products and services which inflated from 12% to 12.7% in a span of one month.
Inflation growths were also noted in health, 3.4%; and personal care, miscellaneous goods and services with 0.7% inflation.
Annual upticks slowed down for housing, water, electricity, gas and other fuels with 0.5% this month compared to 1.3% inflation in the past month.
The rest of the commodity groups retained their previous month's inflation rates or had zero percent annual growths.
The uptrend inflation in food was highly contributed by fast annual price movements in rice with 13% from 11.4% in June, meat and other parts of slaughtered land animals went up to 12.9% and fish and other seafood products grew up to 9.1% this month.
Sugar and related products and milk and other dairy products also increased which posted 25.4% and 5.2% inflation, respectively.
Meanwhile, fruits and nuts, vegetables, tubers, plantains, cooking bananas and pulses, and ready-made food and food products n.e.c. showed slower annual growth from previous month's inflation report.
Other food commodities either increased or retained their previous month's inflation rates.