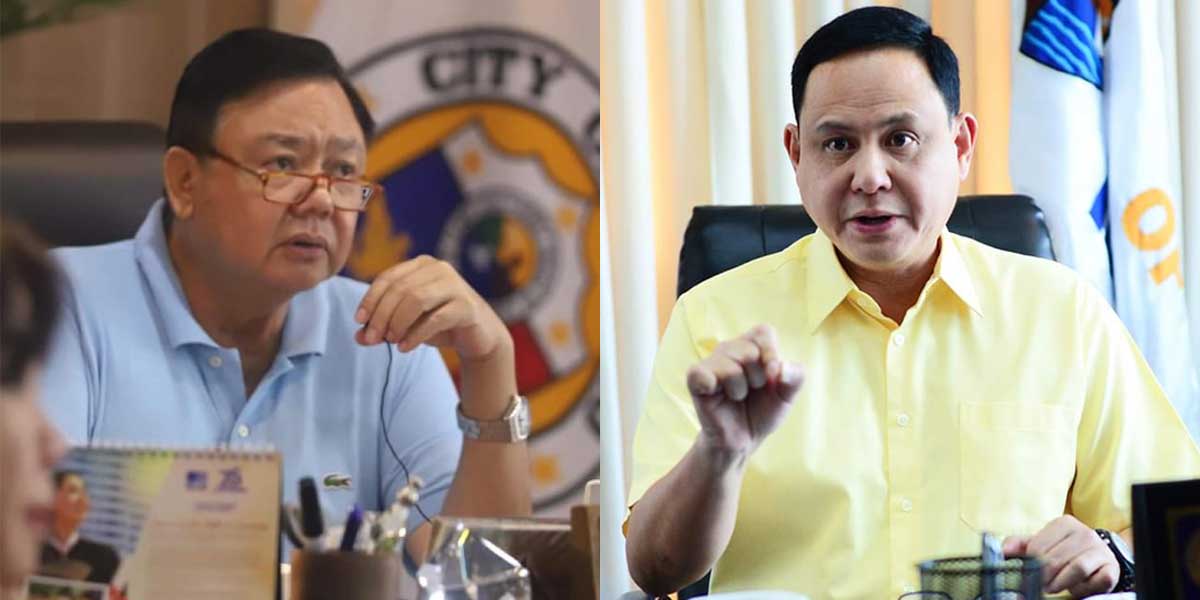 By Joseph B.A. Marzan
Iloilo Governor Arthur Defensor Jr. and Iloilo City Mayor Jerry Treñas were the top spenders of their recent 2022 election bids, according to data from the Commission on Elections (Comelec) city and provincial offices.
Defensor is the only politician to breach the P1-million mark for campaign spending of any candidate in the city and province, admitting on Thursday that he spent P1.3 million.
This, despite not having any formidable challenger and easily gliding to his second term in the May 9 polls.
He said that the bulk of his spending was dedicated to personnel or staffers involved in his campaign.
"[This election's spending] is smaller than [in 2019] maybe because of the fact that I don't have a significant opponent," the governor said in his press conference.
The governor also expressed shock when he learned from the media that he was the highest spender as well as the only candidate breaching the million-peso ceiling.
"I didn't spend as much on tarpaulins because I didn't have an opponent, but [some local candidates] put my name and face on their tarpaulins. We only spend on the fundamentals such as personnel, a small amount of campaign materials, that's it," he remarked.
As reported by state-run Radyo Pilipinas (RP1), incumbent vice-governor Christine Garin spent around P702,000 in her third term re-election bid.
RP1's report also cited the spending of 1st district Rep. Janette Garin (P575,000), 2nd district Rep. Michael Gorriceta (P365,000), 3rd district Rep. Lorenz Defensor (P94,000), 4th district Rep.-elect Ferjenel Biron (P615,000), 5th district Rep. Raul Tupas (P562,000) and his wife 5th district Board Member-elect Binky Angel Tupas (P328,000).
ILOILO CITY
Treñas was the city's top election spender with P325,999, according to data by the COMELEC Iloilo City on submitted Statement of Contributions and Expenditures (SOCE).
His party mates, re-electionists Lone District Rep. Julienne Baronda and Vice Mayor Jeffrey Ganzon spent P318,525.17 and P144,253.40 respectively.
The following re-elected councilors and councilors-elect had the following expenditures (in order of spending):
Candice Magdalane Tupas – P256,870;
Johnny Young – P242,000;
Plaridel Nava II – P225,315.58;
Jose Maria Miguel Treñas – P184,152;
Urminico Baronda Jr. – P148,076;
Romel Duron – P132,823.19;
Rex Marcus Sarabia – P120,000;
Alan Zaldivar – P114,200;
Sedfrey Cabaluna – P92,500;
Rudolph Jeffrey Ganzon – P84,500;
Frances Grace Parcon-Torres – P32,948.82; and
Ely Estante Jr. – P32,386.
Former city mayor and lone district representative candidate Jose Espinosa III was the top spender among non-winning candidates in Iloilo City with P272,970.
Mayoralty candidate Salvador Capulot spent P65,564, while his running-mate vice-mayoralty candidate Mark Khaizer Jadulos, spent P65,896.15.
Other non-winning candidates spent the following amounts (in order of total spending):
Lyndon Acap – P167,017.98;
John Eric David – P107,955.79;
Carlos Javellana – P97,600;
Rovelson Bagares – P58,677;
Mandrie Malabor – P47,800;
Peter Abadiano – P32,000;
Jose Maria De La Llana – P31,000;
Judgie Cesar Alim – P17,000.30;
Romel Flogen – P11,000;
Felipe Cendaña – P7,500;
Romelia Piad – P7,280;
Carmelo Carreon – P5,459;
Edumndo Pama – P5,000; and
Rudy Bantolo – P800.
Five candidates were not able to submit their SOCE as of the June 8 deadline, including mayoral candidate Vicente Ang, congressional candidate Pascual Espinosa Jr., and council candidates Vicente Anoche, Jose Espinosa IV, and Efren Gimeo.
SPENDING LIMITS
Republic Act No. 7166 allows local candidates to spend P3.00 for every registered voter in their constituency.
This means that with 1.28 million registered voters in the province of Iloilo, candidates for governor and vice-governor were allowed to spend up to P3.89 million.
Meanwhile, candidates for the following district representatives and board member positions were allowed to spend up to the following caps:
First district – P686,070;
Second district – P666,690;
Third district – P821,391;
Fourth district – P783,522; and
Fifth district – P937,173.
Candidates for Iloilo City posts, meanwhile, were allowed to spend up to P991,410 with 330,470 registered voters.