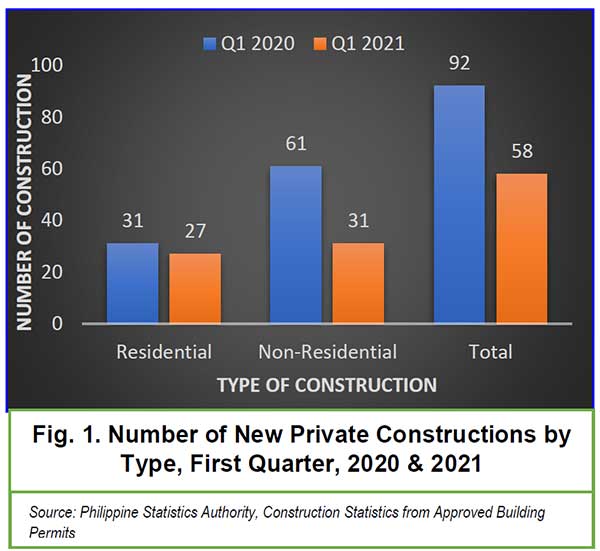 The number of constructions in Guimaras in the 1st quarter of 2021 (Q1) totaled to 58, lower by 36.96 percent compared to 92 buildings in Q1 2020.
This is according to the Philippine Statistics Authority (PSA)-Guimaras Provincial Statistical Office citing preliminary results of construction statistics generated from the approved building permits.
"The decrement was brought by the 12.90 percent dropped in residential projects which accounted for 46.55 percent of the total construction," Provincial Statistics Officer, Nelida B. Losare said.
"Other type of construction such as Addition, Alteration and Repair, Demolition/Moving and, Street Furniture/ Landscaping/Signboard also contributed to the falling trend of total construction in the province," Losare added.
In Q1 2021, only Street Furniture/Landscaping/Signboard recorded a building construction with one structure, while in Q1 2020, only Addition, and Alteration and Repair recorded one structure each.
Guimaras recorded 27 residential constructions which accounted for 46.55 percent of the total number of constructions in Q1 2021. The number of non-residential constructions totaled 31, which contributed 33.70% to the provincial total.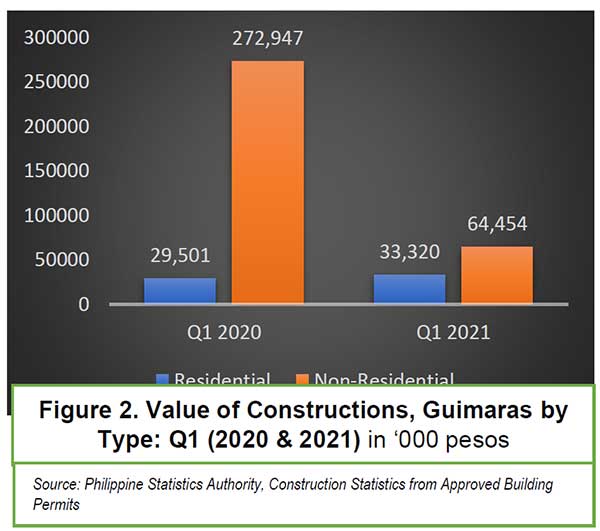 The value of constructions in Guimaras province decreased by 67.67% to PhP97.77 million in Q1 2021, from PhP302.45 million in Q1 2020.
Of the total value of constructions in Q1 2021, the bulk came from non-residential constructions which cost P64.45 million or 65.92 percent of the total value of constructions, while the total number of residential constructions were valued at 33.32 million pesos or 34.08 percent of the total value of constructions in Q1 2021.
"In the other type of building construction, the recorded 1 structure in Street Furniture/Landscaping/Signboard in Q1 2021 got a value of 1.22 million pesos while in Q1 2020 the registered 1 construction in Addition got a value 420 thousand pesos while, the listed 1 construction in Alteration and Repair noted a value of 534 thousand pesos", Losare said.
In Western Visayas, Guimaras has contributed 2.68% to the regional total of 2,161 building constructions in Q1 2021 with a regional total value of P3.63 billion.