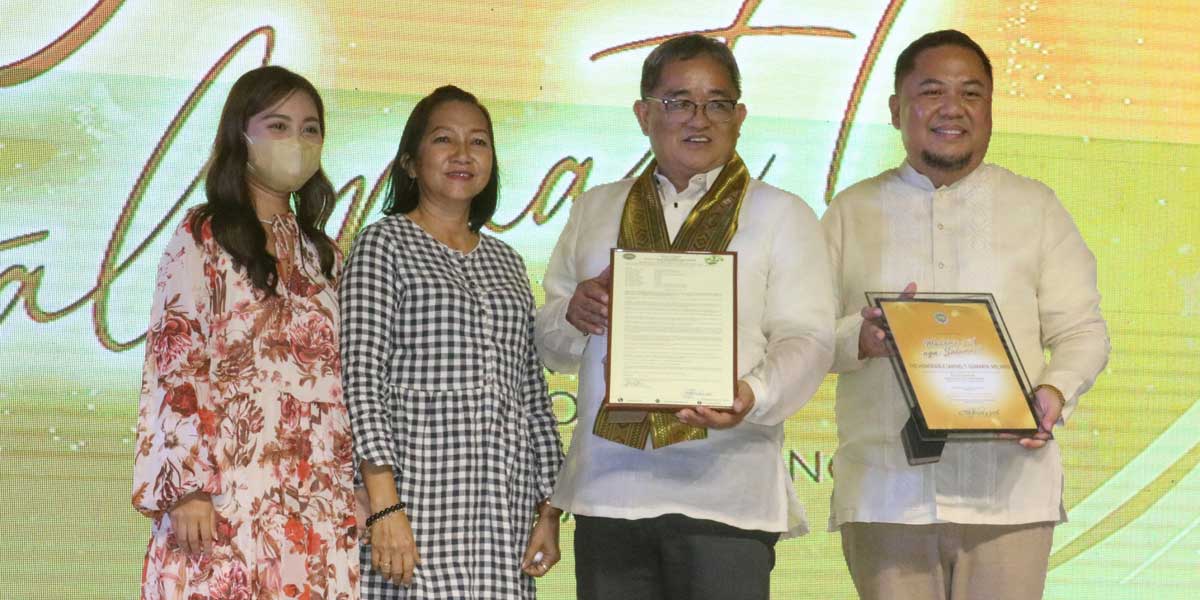 The Provincial Government of Guimaras has paid tribute to the outgoing officials and employees of the province.
The event dubbed "Salamat: An Appreciation Gala for Guimaras Outgoing Officials and Employees" was held on June 28, 2022 at the Provincial Covered Gym.
Eight elected officials will end their terms 12 p.m. today, June 30, 2022, including Governor Samuel T. Gumarin.
Seven members of the 9th Sangguniang Panlalawigan (SP) – Cyril Beltran, David Gano, Josefina De La Cruz, Diosdado Gonzaga, Rex Fernandez, Glicerio Edang, and Marilou Delumpa will also bid goodbye to the Capitol.
Meanwhile, 24 outgoing employees of the PGG were also commended for their service to the Guimarasnons.
Vice Governor John Edward G. Gando, who spearheaded the planning of the occasion, said the event was a way for the Provincial Government of Guimaras to convey its gratitude and show respect for the officials and employees who have given their time in service of the Guimarasnons.
"The word thank you shows our appreciation and conveys our gratitude. But more than that, it is a sign of respect to the person who has helped you. Truly you have left an incredible mark in our heart and the hearts of those you have helped, assisted and served. Your service to the Provincial Government will always be an inspiration and forever remain in the changes of time," he said.
Lone district Rep. Ma. Lucille Nava said these officials and employees have been her companions in working to achieve the dream of the forefathers for Guimaras.
"We have already gone so far and we have achieved so much. And In each and every step we have taken, you are all there with full support in all the decisions that we have made. We have threaded the same path, the same direction towards the goal that we have set for the upliftment of each of our own municipalities and eventually our own province," she said.
Rep. Nava appreciated the sacrifices and dedication these public servants have given to the Guimarasnons.
She also lauded the accomplishments of Governor Gumarin and for stirring the province towards sustainable development for nine years.
"We thank you Gov. for the legacy you left behind, for the commitment you have offered. We thank you for your utmost dedication and the sincere service you have rendered for our beloved province. For the six years that we have served together, there has never been a single moment that we have dissenting opinions for our plans for Guimaras," she added.
Overcoming the hurdles posed by the COVID-19 pandemic is one of the best achievements of the outgoing governor according to Nava.
Nava said Gumarin's dedication and love of service brought the province to its present glamour and helped propel the province to new heights.
Gumarin, who will be the incoming mayor of the Municipality of Buenavista, said he was reluctant at first to run for the gubernatorial post as he was not ready for the responsibilities, but he cannot say no to Dr. JC Rahman Nava who will replace him as governor.
"Tuod na ginhambalan niya ko: 'Noy ikaw mapadalagan gobernador. Siling ko ha!? During that time indi ko ya ready. Manugtapos ko as mayor sa Buenavista. Kami ni Cong. Lucille wala kami ya kabalo ano amon nga madangtan. Until such time si Cong. finally nagdesidir man. Ako after second request ni To Man (Dr. JC Rahman Nava) wala na ko sang may mahimo. It's a call kay I made myself nga parte sang sini nga grupo'," he shared.
Gumarin attributed his success to the officials and employees of the Provincial Government who trusted and supported his every endeavor.
"What we had achieved subong, it's not for me. Maski ano ang ulo kun diin siya makadto kun wala sang may masunod, nothing will happen to all of us. So, bangud ginsaligan niyo ko, ginsaligan ko ni Cong. Lucille kag ni To Man nga masarangan ko, finally with Vice Governor, naamat-amat namon plastar liwat ang aton probinsiya. So, with all, everything ara lang gid, ready to give your best. Nangin madali sa amon, nangin mahapos sa amon ang pag-push sang development sa bug-os nga probinsiya sang Guimaras," he said.
The honorees were joined by their families, the employees of the Provincial Government of Guimaras and the heads of the different national government agency offices in Guimaras.
The Capitol Chorale and the PRO-6 Band provided the entertainment.