Guimaras' total palay production in the first three quarters of 2021 estimated at 33,934 metric tons shrunk by 16.22 percent, translating to 6,568 metric tons lower than the 40,502 MT produced in Q1-Q3 of 2020.
"The decrease was due to the 17.49 percent decrement in the irrigated palay yields comprising 74.00 percent of the provincial total. Likewise, rainfed farms produced only 25,244 metric tons, 15.77 percent less than the 29,970 metric tons of rainfed palay harvested in 2020," Provincial Statistical Officer Nelida B. Losare said.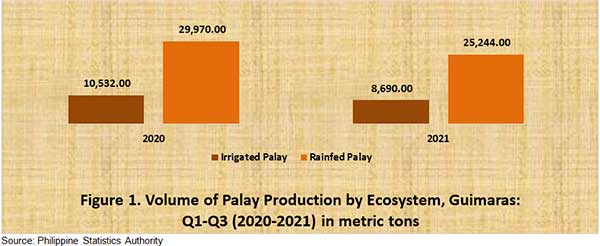 Comparing data for two reference periods Q1-Q3 (2020-2021), irrigated palay posted the lowest outputs which dropped by 17.49 percent.
Losare also expounded that the comparative palay distribution by ecosystem shows that of the total provincial output, the decrement from rainfed palay farms was 4,726 metric tons in 2020. Irrigated palay also declined by 1,842 MT from 10,532 produced in 2020.
"Palay in Guimaras is mostly planted in the rainfed areas that are dependent on rainwater for their growth and development", Losare said.
"In Q1-Q3 of 2021 however, the total palay yield at 33,934 MT mostly came from rainfed farms contributing 74.39 percent or 25,244 MT while 25.61 percent or 8,690 MT came from irrigated farms", Losare added.
Likewise, Losare elaborated that in terms of area harvested, a total of 2,143 hectares reduction was seen in rainfed and irrigated combined palay farms or 15.73 percent smaller compared to the first three quarters of 2020.
"Of the total area harvested, rainfed palay farms reduced by 1,642 hectares or 15.54 percent while irrigated farms lessened by 501 hectares or 16.38 percent lower than the area harvested in 2020 of the same quarters," Losare said.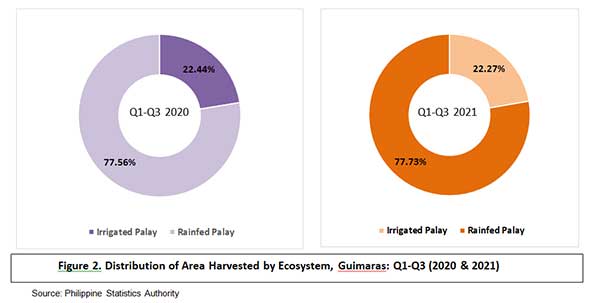 Meanwhile, in terms of percentage distribution, rainfed palay farms shared more than two-thirds or 77.73 percent of the provincial total while 22.27 percent contributed by irrigated palay farms in Q1-Q3 of 2021.
"The total palay area harvested decreased by 15.73% having 2,143 hectares lesser than the 13,626 total harvested in 2020," Losare said.