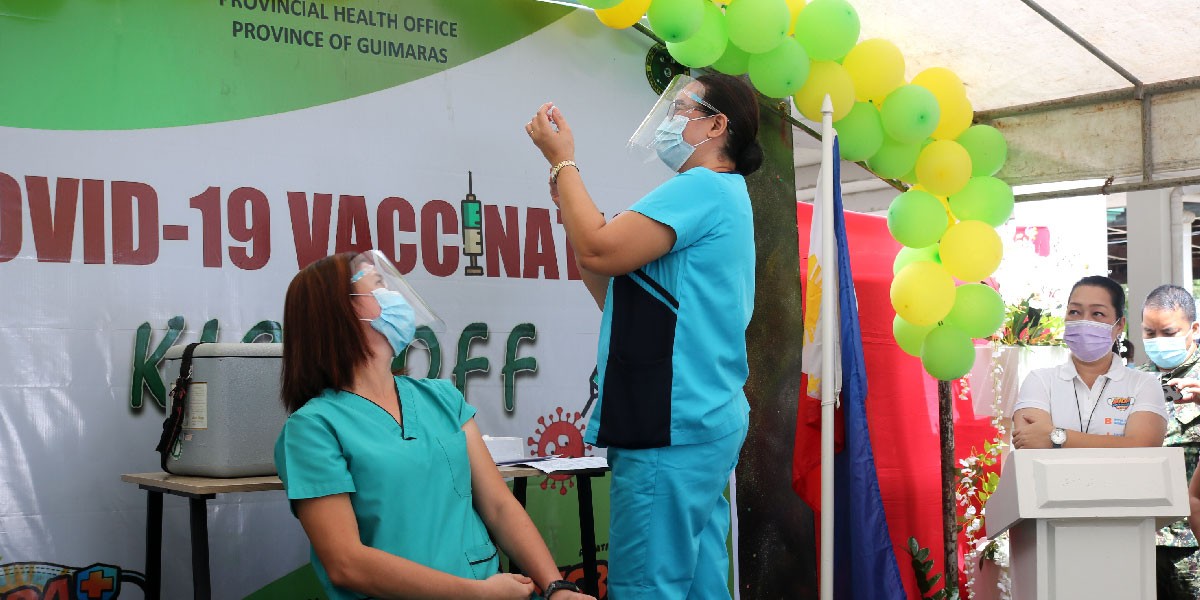 The Province of Guimaras kicked off its COVID-19 vaccination on March 12, 2021, with shots administered to frontline health care workers of the three hospitals in the island.
100 health workers – 58 from Buenavista Emergency Hospital, 32 from Dr. Catalino Gallego Provincial Hospital, 10 from Nueva Valencia District Hospital – were inoculated.
During the ceremonial kick-off at the Guimaras Vaccination Post at the Capitol Grounds, Rev. Jose Alex Serania blessed the vaccines before it was administered to the health care workers.
Ruffa Geraldoy, a Medical Technologist of Nueva Valencia District Hospital, was the first person in the province to receive the CoronaVac shot, a vaccine made by China's Sinovac Biopharm.
She was vaccinated by Nurse Ofel Ganancial, also of the Nueva Valencia District Hospital.
Geraldoy said she felt honored and proud for making history. She is grateful that the frontline medical workers are the priority in the vaccination.
"Thankful, proud, and overwhelmed. Thankful because we, the frontliners in the medical field, were the first priority to be vaccinated. Proud in a way na I made a mark in the history of fighting to end this pandemic in the province. In other places, usually other medical staff like doctors ang gina-una bakuna pero diri sa aton ako ang napilian," Geraldoy said.
Asked if what changes she felt in her body after the vaccination, she shared that she only felt a slight pain on her muscles on the shoulders down to her elbow.
Geraldoy said that she did not hesitate to be vaccinated as she believes that time is of the essence and prevention is better than cure. She also did her own research on the available COVID-19 vaccines and she had no fear that CoronaVac is the one that will be administered to her.
"Honestly speaking, wala gid ko nagduha-duha to say 'Yes' sa survey conducted by our Hospital Admin. For me, time is gold and prevention is better than cure. Kun ano nga vaccine ang mauna maabot, I'm willing to be vaccinated. Any vaccine will do whether it is SinoVac or not. I believe it is better than no vaccine at all. Basi maghulat pa ako sang other brand, basi nag-positive na gali ako sa COVID antis siya ihatag diri sa province," she explained.
Geraldoy encouraged her fellow healthcare workers to lead the community in getting vaccinated by being the bearer of the right information so that everybody can return to normal life if herd immunity is achieved.
Geraldoy believes that the power of Science and faith in God will end this pandemic.
"To all my fellow health workers, be the one to lead the community in getting vaccinated. Let's show and inform them the benefits of the vaccine regardless of the brand as they rely on us by our reviews and testimonies. We just have to trust the power of Science and have faith in God that we can end this pandemic through this vaccine.  I hope you will be vaccinated so that we can achieve our goal, the Herd Immunity, for us to have a normal life once again," she added.
Governor Samuel T. Gumarin hailed the day as a memorable one for the province.
Gumarin said the mass vaccination brings the fight against the pandemic a step closer  to its end.
"Today is a memorable day for all of us. For the fight against COVID-19, this is one step nga makita naton, mabatyagan kag finally mahisayran kun ano gid ang pinakamaayo. This is the day nga ginapaabot-abot naton," Gumarin said.
The misconception about the COVID-19 vaccines fuels the fear of the people to be inoculated, according to the governor.
"Our target is makakuha kita herd immunity. Kadamo sang mabudlay nga misconception sa aton mga vaccines. Medyo mabudlay kay wala kita mahatagan sang insakto nga data kag information," he added.
Gumarin appealed to the medical workers of the three hospitals in the province to have themselves inoculated as only 99 personnel of the hospitals have signified to be vaccinated.
"Bilang Executive sang probinsiya sang Guimaras ako naga-apelar especially sa mga frontliners naton sa hospital. Kun ma-overwhelmed ang mga frontliners naton sa hospital, ma-overwhelmed ang aton mga nurses, kag hadlok aton mga doktor, wala na sila nga daan na-vaccinate, ano matabo sa aton hospital? Wala sang may maatubang sa aton pasyente kay gakurog nga malatnan sang COVID-19. Let us grab this opportunity nga mapa-vaccinate kita," he appealed.
He reminded the medical frontliners of their responsibility as being the top priority to get the vaccine.
Vice Governor Atty. John Edward Gando recognized the effort of the national government to distribute the available vaccines to the provinces.
He praised the bravery of the 99 frontline medical workers who were inoculated of the vaccine.
Atty. Gando said that if given the opportunity, he is willing to be vaccinated, if this is one way to boost the confidence of the people in the vaccines.
"I was asked if I myself, is willing to be inoculated and my answer is a resounding 'Yes.' Kun hatagan oportunidad subong, I am willing at this very timed moment to have myself inoculated. Proteksyon para sa akon, sa akon pamilya. Proteksyon para sa komunidad, sa sosyodad, sa ktrabaho, sa kaupod ko sa trabaho, proteksyon sang akon mga ginikanan who are already in their senior age, proteksyon sa akon kilala nga mga lamharon, mga hinablos nga gagmay pa, and more importantly if this is the reason to boost the confidence level then we would be willing to submit ourselves for inoculation," Gando said.
The Vice Governor meanwhile reminded the public to continue to adhere to the minimum health standards while the country is waiting for enough supply of the vaccines.
Rep. Ma. Lucille L. Nava challenged the medical frontliners to impart to others how important vaccination is to put an end to the COVID-19 pandemic.
She emphasized that vaccination is the best way to protect the body against the virus thus, those who are the top priority to be given the vaccine shall take this opportunity.
"Sa aton mga frontliners, I challenge you all, please, be the vessel nga mag-impart sa iban kun how important vaccination is. Protection is best because there is no cure. We have to protect ourselves because we can not cure this. You have to defend yourself and what best could you defend yourself is through a vaccine, whatever vaccine it is. Do not wait, do not delay, the more you delay, the more you give chances for everyone to be infected, the more you give an opportunity for the the virus to mutate.
The virus has no brain, kita may ara. So what do we do? Kita ang manumdom kun paano naton indi pasudlon ang virus sa aton lawas. And what could we do is to accept whatever vaccine comes first on your floor," Nava said.
She said that people can now see hope as the vaccines are already available despite the limited supply.
"Now we could already work forward and see hope because at last makita na naton ang future kay nag-abot na ang aton ginahulat – ang vaccine," she added.
Provincial Health Officer Dr. NL Cathrel Nava, Provincial Department of Health Office Development Management Officer V Dr. Nilda Baingan, Sangguniang Panlalawigan Member Josefina De La Cruz, chairperson of the Committee on Health, Liga ng mga Barangay President Marilou Delumpa, officers of the Guimaras Police Provincial Office and the Bureau of Fire Protection graced the kick-off ceremony of the COVID-19 vaccination in Guimaras.