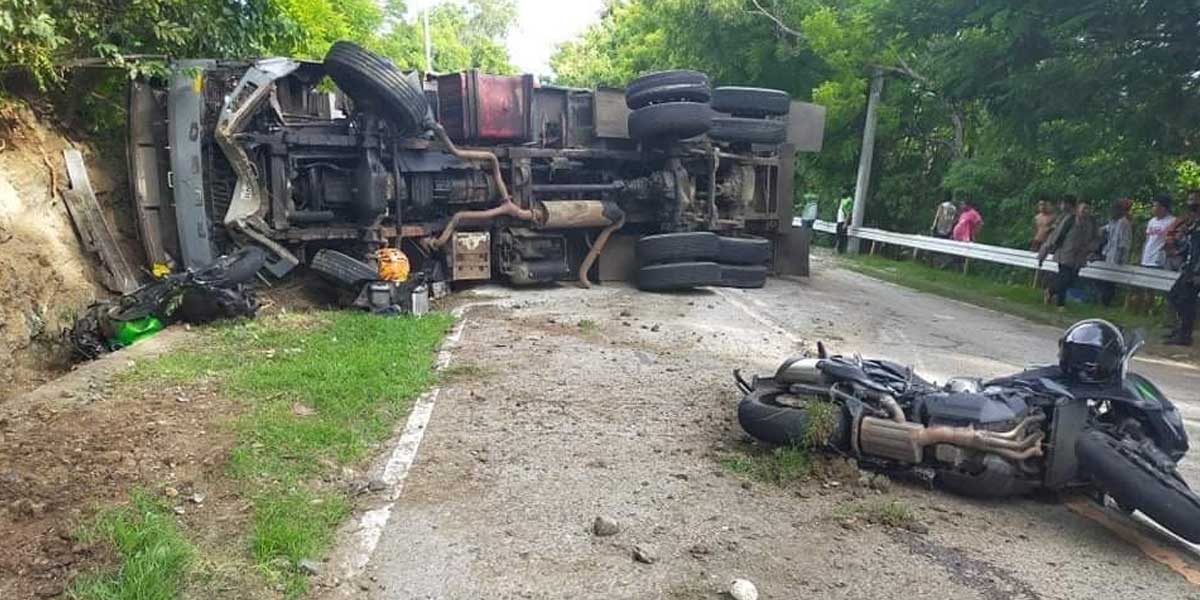 By Glazyl Y. Masculino
BACOLOD City – A criminal complaint was filed on Saturday against a dump truck driver following a road accident at Sitio Buli, Barangay Rizal, San Carlos City, Negros Occidental, that killed the newly installed police chief of Guihulngan City, Negros Oriental last Friday.
Charges for reckless imprudence resulting in homicide, physical injuries, and damage to properties were filed against Wenny Boy Nagor, 24, of Don Salvador Benedicto, Negros Occidental, according to Police Lieutenant Ruby Aurita, public information officer of San Carlos City Police Station.
Nagor was supposed to deliver gravel when he lost control of his driven dump truck due to a mechanical trouble.
Nagor was approaching the curve part of the road in a descending manner, when the dump truck suddenly swerved to the opposite lane, Aurita said.
The dump truck then fell on its side and dragged a motorcycle driven by Police Lieutenant Colonel Ruben Verbo, 44, of Manjuyod, Negros Oriental, and ridden by his live-in partner Richie Dayday, 33, of Ayungon, Negros Oriental.
Aurita said that Verbo was leading Police Colonel Germano Mallari, 52, of Daan Bantayan, Cebu, who is a director of Negros Oriental Provincial Police Office (Norppo).
Mallari was also riding his motorcycle on their way to Bacolod to meet Police Colonel Leo Pamittan, acting director of Negros Occidental Police Provincial Office (Nocppo) to discuss about their barangayan project in the boundaries of occidental and oriental.
Aurita said that Verbo and Mallari, along with another policeman identified as Police Staff Sergeant Trifon Paltingca, 42, of Zamboanguita, Negros Oriental, saw from a distance the malfunctioned dump truck, prompting them to stop.
"Nagpundo sila pagkakita nila sa layo pa lang, galing kadasig lang gid sang natabo, gin arado ni sang dump truck ang motor ni (Sir) Verbo, since siya ang ara sa una, nalab-ot gid siya," Aurita said.
Aurita said Verbo and Dayday failed to jump from their motorcycle and was thrown off to the canal.
Due to the impact, Verbo was declared dead on arrival at a hospital, while Dayday was wounded.
Verbo was installed as Guihulngan City police chief on July 13.
Aurita said that Mallari, Paltingca, and a civilian identified as Edwardo Aceñas, 38, of Dumaguete City, Negros Oriental were able to jump from their driven motorcycles. They suffered minor injuries.
Aurita said they didn't know why Mallari decided not to take a car that day.
"Sugat-anay ni sila abi, kay pasaka ni ang mga nakamotor pagkatabo," she added.
Nagor also suffered minor injuries in the leg. He is detained at San Carlos City Police Station.