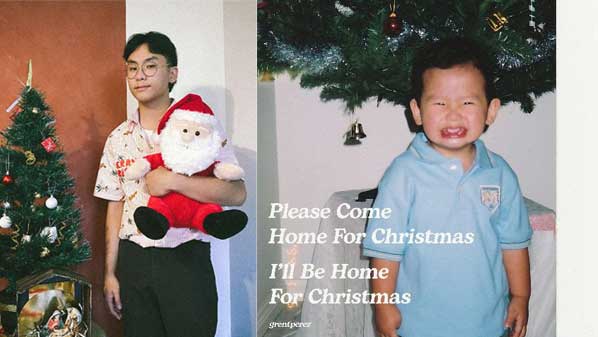 After 2020 brought us a disjointed, COVID-dominated not-so-festive season, rising singer-songwriter grentperez's Holiday covers, "I'll Be Home This Christmas" and "Please Come Home This Christmas" have arrived to kick off our end-of-year festivities.
No stranger to covers, grentperez's effortless vocals and charismatic sound has won over millions of fans, right from his childhood bedroom with his "Sing U to Sleep" YouTube series of covers.
After spending the pandemic honing his own sound and nurturing his songwriting, grentperez has garnered wide-acclaim over the last few months with his original, heart-on-sleeve songwriting and swooning timeless vocals. Already scooping support from the likes of Notion, DIY, Wonderland and The Line of Best Fit, 2021 has been a stand out year for the newcomer. Recent single "Cherry Wine" hit the viral charts in Singapore, Philippines, Malaysia, Indonesia, Thailand and Vietnam soon after its release. He's since garnered amazing support throughout Southeast Asia, landing coveted features on MTV Asia, Vh1 India, SEA Today (Indonesia), ABS-CBN (Philippines), Nylon Manila and more.
His follow-up tracks "My Heart It Beats For You" and "Clementine" similarly touched fans across the globe. A barrage of fans worldwide submitted their videos to be a part of grentperez's "Official Community Music Video" after he did a call-out on social media, asking his followers to participate.
Born in Australia, grentperez grew up as the youngest of three kids in a Filipino family. Raised on a diet of The Eagles, The Beatles, and Queen thanks to his dad before moving onto the likes of Musiq Soulchild. As soon as  he received his first nylon string acoustic he taught himself Jeremy Passion's "Lemonade", learning chords, shapes, and plucking patterns. At the end of 2013, he launched his YouTube channel which currently sits at almost half a MILLION subscribers.
With a wealth of original releases ready to go in 2022, grentperez is definitely a rising artist to keep an eye on.