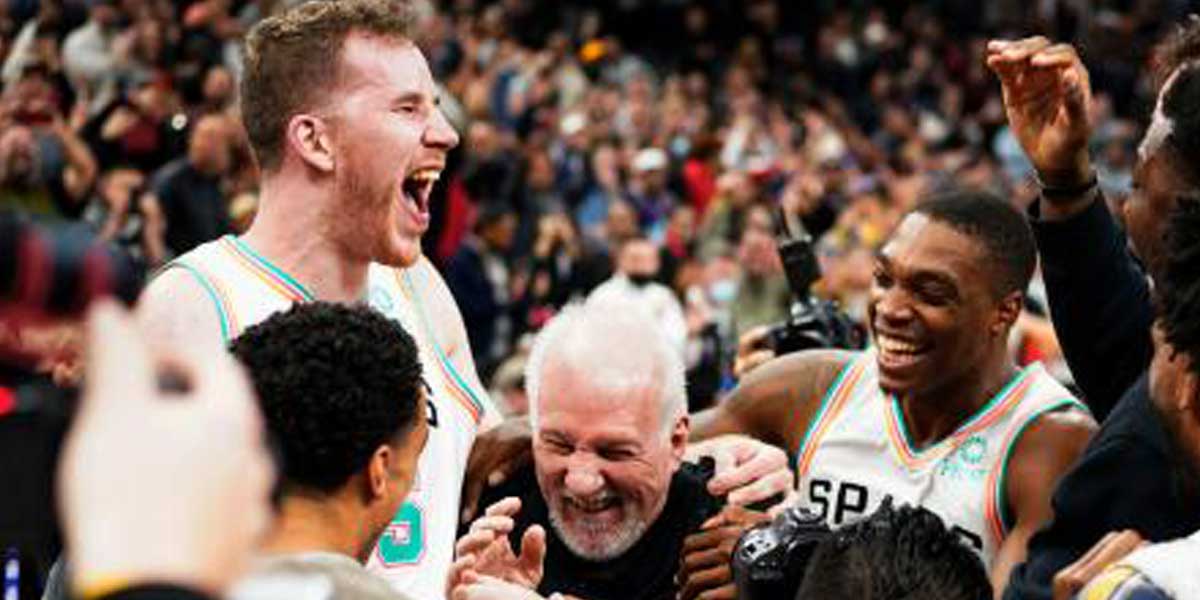 By Leobert Julian A. de la Peña
After 26 years, San Antonio Spurs' living legend Gregg Popovich has rewritten the NBA history books after passing Don Nelson as the league's winningest coach with 1,336 regular season wins.
Down by eight points after three quarters, Popovich's wizardry once again worked after leading the Spurs to a huge 40-28 fourth quarter run against Donovan Mitchell and the Utah Jazz to secure the record-breaking win, 104-102, in their 66th game of the ongoing NBA season.
Seconds after the buzzer sounded, the Utah coaching staff quickly approached coach Popovich followed by his players led by their young star Dejounte Murray and mobbed him going into their locker room.
It was an unforgettable ride for coach Popovich after leaving the Spurs' general manager post to take over coaching reigns which proved to be the franchise's greatest move that made them one of the greatest teams until now.
That one crucial move then led to the silver and black's five NBA championships during their 1998, 2022, 2004, and 2006 runs.
"It's just a testament to a whole lot of people. Something like this does not belong to one individual. Basketball's a team sport. You preach to your players that they have to do it together and that's certainly been the case in my life with all the wonderful players and coaches, the staff that I've been blessed with, the support of this wonderful city. The fans support us no matter what," said Popovich after their win against the Jazz.
Despite San Antonio's current standing of 26 wins and 41 losses and a 12th seed in the Western Conference, Popovich is just enjoying his time molding the young core of the Spurs but is uncertain of a comeback for the next season.
In the NBA's top 10 head coaches with the most wins, there is only one person who will have the chance to break his record: Doc Rivers of the Philadelphia 76ers who remained as the only active coach aside from Popovich.
Rivers is currently at the 10th spot with 1,032 total wins on 1,761 games played and will need 304 more regular NBA season wins to take over his spot.