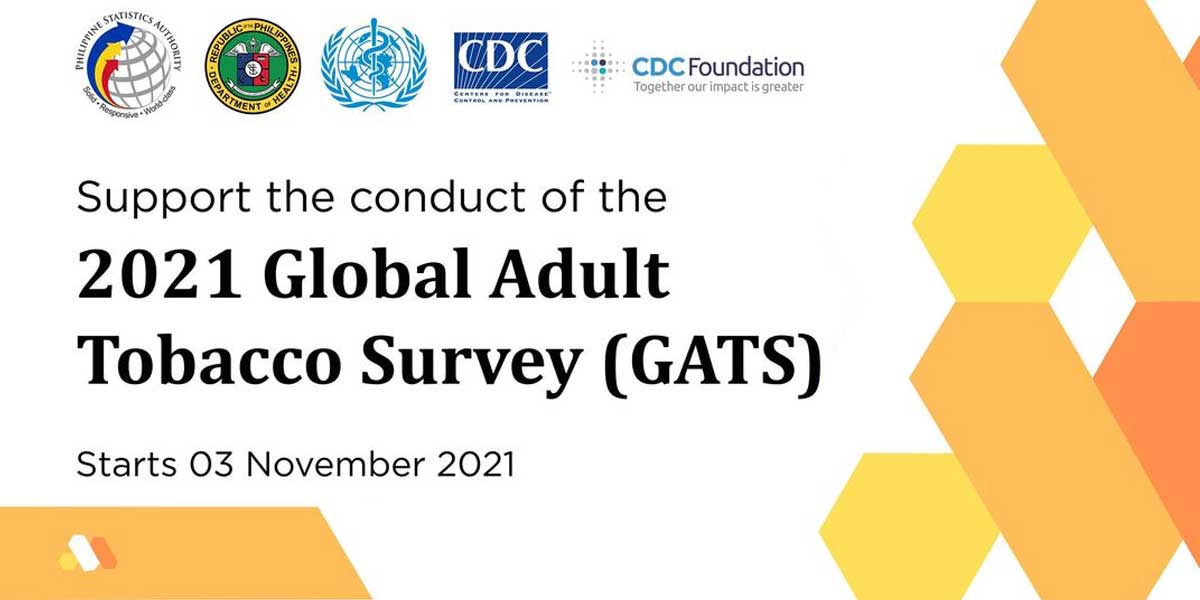 The Philippine Statistics Authority (PSA) Region VI is conducting the 2021 Global Adult Tobacco Survey (GATS) in all provinces of Western Visayas starting Nov 3, 2021
and is expected to end on Dec 4, 2021.
The survey is undertaken by the PSA in cooperation with the Department of Health (DOH).
The 2021 GATS aims to gather information on adult tobacco use and key tobacco control indicators across countries.
Specifically, it intends to provide estimates of tobacco use, exposure to second-hand smoking, quit attempts, and other key tobacco control indicators at the urban/rural level.
Some of the major data items to be collected in this survey includes:
Demographic characteristics of tobacco users;
b. Smoking habit;
c. Use of electronic cigarette, heated tobacco products, and smokeless tobacco;
d. Factors affecting cessation of tobacco use;
e. Exposure to second-hand smoke;
f. Economics of manufactured cigarettes;
g. Exposure to media and advertisements;
h. Knowledge, attitudes, and perceptions; and
i. Labels in cigarette packs
The survey will interview a total of 724 sample households and individuals region-wide. Results of the survey are scheduled to be released on 01 June 2022.
The GATS, a component of Global Tobacco Surveillance System (GTSS), is a global standard for systematically monitoring adult tobacco use and tracking key tobacco control indicators. GATS is a nationally representative household survey of adults 15 years of age or older using a standard core questionnaire, sample design, and data collection and management procedures that are approved by international experts.
GATS is intended to enhance the capacity of countries to design, implement and evaluate tobacco control interventions.
In line with this, the PSA enjoins the public to support the 2021 GATS by providing the required information. Authorized PSA interviewers will visit the sample households and individuals
to conduct the personal interview.