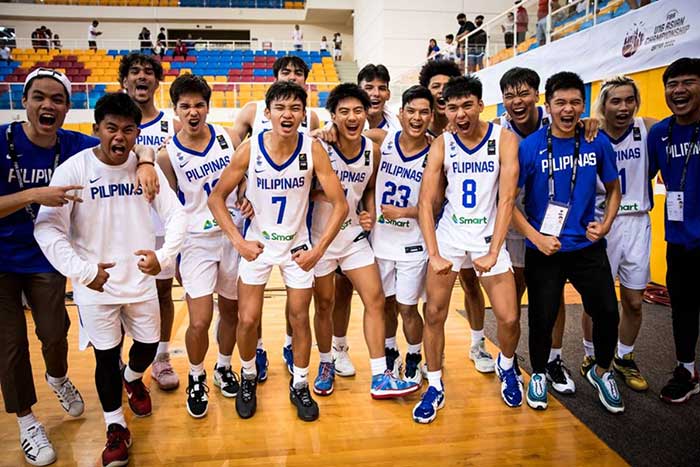 By Leobert Julian A. de la Peña
The Gilas Youth Philippine men's basketball squad is back on track in the 2022 FIBA Under-16 Asian Championship after annihilating Kazakhstan, 83-60, keeping their hopes alive of a spot in the FIBA Under-17 World Cup.
It was a huge bounce back for the young Filipino hoopers after suffering a loss at the hands of Japan during their second game of the tournament.
The Gilas Youth immediately pounced on the opposition from the start and relentlessly attacked the basket which resulted in several miscues in the defensive sets of the Kazakhstan national team.
Renzo Competente was waxing-hot from the field and led the Gilas Youth assault after putting on an all-around performance of 15 points, six rebounds, and four steals.
The Gilas squad took an early 11-point lead in the first quarter, 26-15, and continued to play consistently for the next three quarters that posed several problems for Kazakhastan.
Alongside Competente was Jacob Bayla who found his offensive rhythm in the middle of the game and spearheaded Gilas' second-period attack with 13 points, nine rebounds, six steals, and three assists.
Kazakhstan attempted to inch closer at the end of the third quarter when their three-point shooting finally clicked but a Gilas counter at the start of the first three minutes in the final canto put them back in a commanding position.
Gilas piled up their largest lead at 26 points in the eighth-minute mark of the fourth and continued staying aggressive while fishing for fouls during their drives to the basket.
Zain Mahmood and Kristian Porter, two of the most outstanding Gilas players during their win against Kuwait, added 12 points each in the win while Caelum Harris orchestrated their offense after contributing three points, nine rebounds, and seven assists.