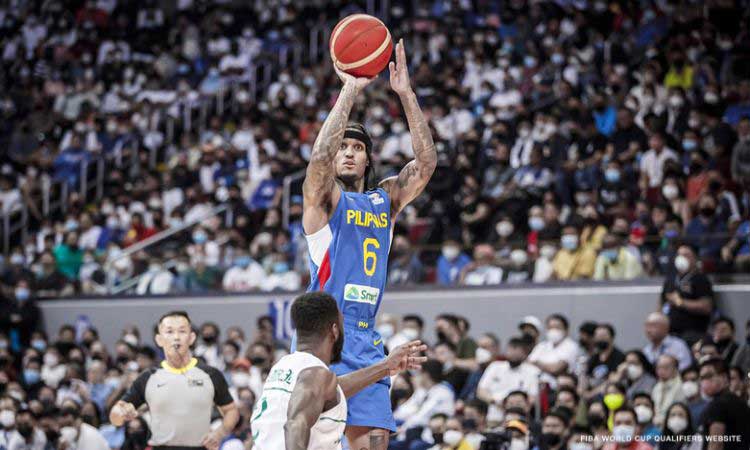 By Leobert Julian A. de la Peña
The Gilas Pilipinas men's national basketball team finally injected some life into the thousands of Filipino basketball fans after decimating Saudi Arabia by 38 points, 84-46, during the fourth window of the 2023 FIBA World Cup Asian qualifiers.
After a heartbreaking 85-81 loss at the hands of Lebanon during their first game, the PHL national basketball team rediscovered its dominant form against Saudi Arabia and displayed one of its best shooting nights in the FIBA window.
However, Saudi got some early offensive lift from their backcourt in the first quarter that put some tension in the Mall of Asia Arena after Gilas was held to just 11 points in 10 minutes.
Saudi then took the lead, 14-11, and got some momentum heading into the second frame. The Filipinos continued to struggle in the first three minutes of the quarter but the star duo of Jordan Clarkson and Dwight Ramos spearheaded Gilas' comeback, turning the tables around after tallying their best scoring quarter of the game with 26 big points.
Gilas retook the lead at the 6:55 mark of the second quarter after a dazzling one-handed scoop layup by Clarkson that wowed the 19,829 Filipino fans in attendance.
After the Clarkson razzle-dazzle, the whole Gilas squad was then fired up and quickly left Saudi behind for the rest of the game.
Ramos, one of the most efficient players in the Gilas roster, made Mall of Asia Arena explode after scoring a poster dunk on Saudi's main big man who attempted to block his slam that extended their lead to 27-23.
Saudi never recovered in the game and got outscored in all three quarters by 41 points, 26-14, 24-8, 23-10.
Clarkson led the Gilas assault after finishing the game with 23 points, six assists, and five rebounds while Australia-bound Kai Sotto put up dominant stats and contributed 16 points, 13 rebounds, and four blocks.
During his post-game interview, Clarkson then vowed to lead Gilas again in the 2023 FIBA World Cup and thanked the Filipino fans for their undying support of the national team.