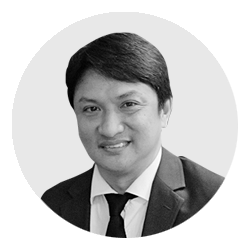 By Atty. Eduardo T. Reyes III
More than fifteen (15) years ago, when commercial flights started taking off and landing at the New Iloilo International Airport in Cabatuan-Santa Barbara after this new airport of international standards had opened, controversy arose when the Association of Taxi Operators in Panay (ATOP) petitioned the Land Transportation Franchising and Regulatory Board (LTFRB) Regional Office 6 for a fifty-peso (P50.00) add-on flag down rate for all trips to the new airport given its considerable distance from Iloilo City.
ATOP was then headed by a sweet lady who ran a taxi fleet of about ten (10) units. But you could sense from her that she was astute and observant or keen about the taxi industry that the operators of other taxi companies had faith in her as manifested by their collective act of electing her as their president.
Too, the taxi drivers across the board accorded her respect and everyone in the industry had no doubt in their minds that she will go far. True enough, with her knack for detail coupled with her innate business acumen tempered by humility, humanity and compassion for the employees, she went strides farther. In less than ten (10) years, she and her husband had  grown their taxi business into arguably one of the biggest in Western Visayas. Not only that, they also diversified through successful spin-offs into auto gas refilling, car parts sales and services, restaurants, coffee shops, and, their ultimate dream: a hotel/ resort.
Being at the pinnacle of success did not change this woman. She remained humble and compassionate. Her birthday and Christmas celebrations were spent together with her employees and taxi drivers where instead of receiving gifts, she handed out presents to them on these special occasions.
Her business dealings were always above board. When the Bureau of Internal Revenue (BIR) assessed her for tax deficiencies, she raised the hefty amount to pay the government. When it became unavoidable for her to go to court to collect some debts, her heart and mind were always in the right place to meet the adversary halfway for a reasonable settlement. Her lawyers could swear that she was astute but never shrewd and was an easy person to deal with.
The business community did not fail to notice her. She was elected president of the Iloilo Chamber of Commerce and was recognized as a philanthropist by local chief executives for her selfless giving not only to her company workers but also to the community.
Yet this woman who already casts a giant shadow in the business community had remained humble, she kept to herself, and remained ever sweet.
With her business empire having been mounted, you would think that since she could already afford to hire many subordinates, that she would take some time off. But wresting this woman away from work would be a gargantuan task because she and her husband treated their business as their "baby" and their workers as "family".
And then tragedy struck.
The pandemic had taken her and her husband away.
Two meek souls had taken off to that beautiful place where faith is assuring us that there is no more pain and sorrow.
This columnist is mourning the loss of two humble souls who made a difference in the community and in his life, as well.  Having taken care of their legal concerns for a good two (2) decades and having dealt with them not only on a professional but also on a personal level, their passing leaves a crater of sadness that time will not be able to fill. It will not be easy to move forward knowing that a client who believed in you and whose business had grown in stride with yours, will no longer be there to face business and life challenges with you.
But mortality does not necessarily rule out legacy.
GDR is an acronym that stands for Gary and Donna Rose Ratilla.
It also means: generosity, dedication and respect.
(The author is the senior partner of ET Reyes III & Associates– a law firm based in Iloilo City. He is a litigation attorney, a law professor and a book author. His website is etriiilaw.com).