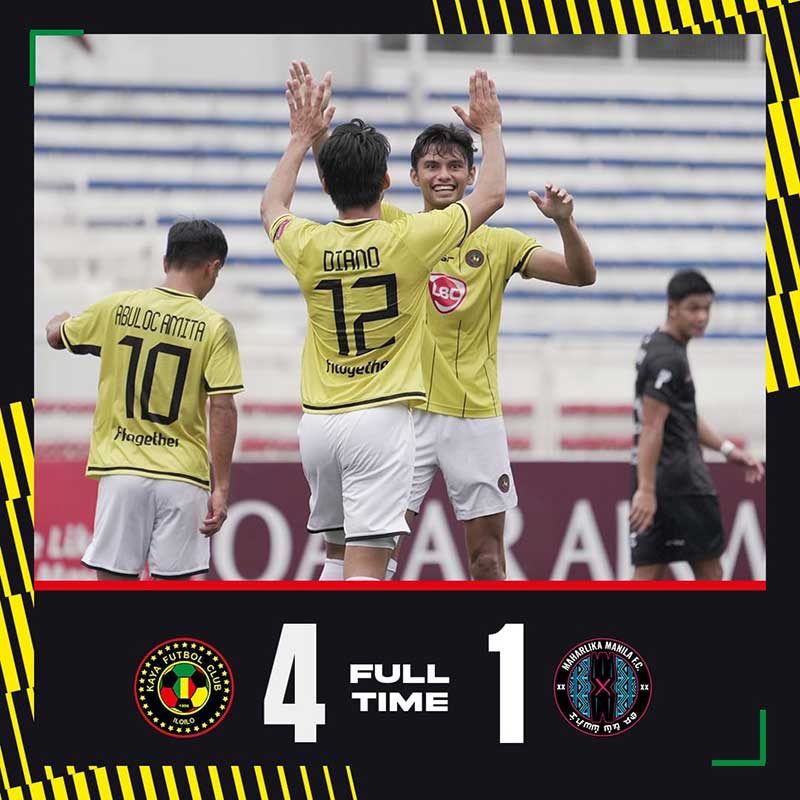 By Leobert Julian A. de la Peña
Kaya FC-Iloilo continued its dominant campaign in the 2022 Philippines Football League (PFL) after crushing Maharlika Manila, 4-1, held at the Rizal Memorial Stadium.
Former national team member Jarvey Gayoso spearheaded Iloilo's majestic performance with a hat-trick and helped his squad remain perfect in the ongoing 2022-2023 season.
Gayoso wasted no time buckling to work and immediately delivered the goods in the 13th minute to draw the first blood against Maharlika.
The two-time UAAP champion with the Ateneo de Manila Blue Eagles got past Maharlika's backline defenders and tapped the ball with ease for his first goal.
However, Maharlika's in-game adjustments fortified its defensive hold and prevented Kaya FC from another conversion for almost 30 minutes.
Kaya FC successfully penetrated in the 41st minute and broke through the Maharlika defense. During that sequence, Iloilo was able to score its second goal after Carlyle Mitchell sent in a header off a Jhan-Jhan Melliza cross pass.
The second half of the match then turned into a Gayoso striking clinic after completing his hat-trick with goals in the 78th minute and the 80th minute.
OJ Clarino finally put Maharlika in the scoring column after a late-game effort in the extension period but wasn't enough to will his team to a come-from-behind victory.
With the win, Kaya FC notched first place in the PFL rankings with four-straight wins and improved their tally to 12 points.
Iloilo will look to extend its winning streak to five-straight victories as they take on the defensive-minded Stallion Laguna next Saturday at 7 PM.