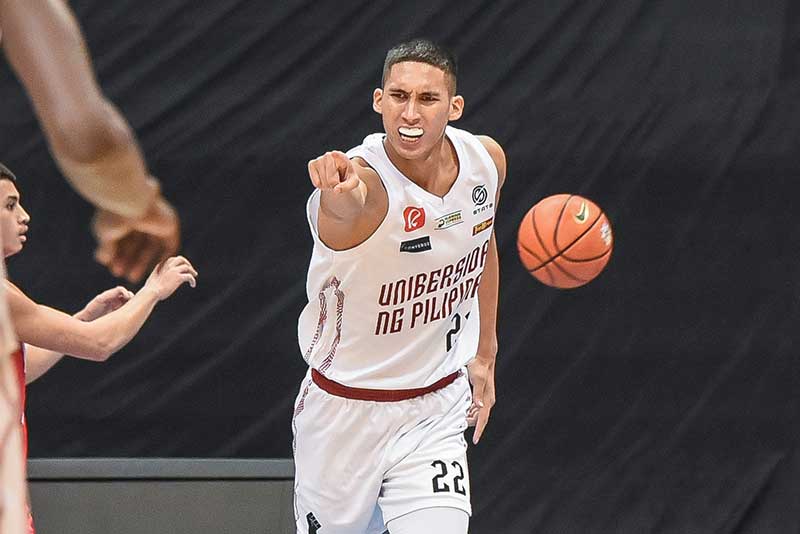 By Leobert Julian A. de la Peña
The University of the Philippines (UP) Fighting Maroons asserted its mastery over the College of Saint Benilde (CSB) team, 117-61, and grabbed another convincing win in the ongoing 2022 Filoil Ecooil Preseason Cup.
Led by the returning UAAP Season 84 mythical team member Zavier Lucero, the Fighting Maroons displayed one of their best outings in the Filoil tournament.
The debuting Lucero stuffed the stat sheet for the Fighting Maroons and finished with an impressive 11 points, four rebounds, three steals, and a block.
Lucero's return to the UP roster only made them stronger together with star forward Carl Tamayo and Finals MVP Malick Diouf in the lineup.
The Filipino-American's on-court energy made all the difference during their crushing victory and also paved the way for the others to contribute especially in the scoring department.
Also making his presence felt during the win was enforcer Henry Galinato after dropping 16 big points built from 8/10 shooting from the field.
Galinato was also one of the players head coach Goldwyn Monteverde picked to be a part of their rotation during their two exhibition matches against Iloilo's Elite Lab and displayed his brute force underneath.
The Fighting Maroons dominated the game from the get-go and established its largest lead of the contest with 58 points.
RC Calimag and Harold Alarcon also shot the lights out for UP and were too much to handle for CSB as they got their shots up mostly from the perimeter.
Former Fighting Maroon Will Gozum was the only one who shone for CSB and scored a team-high 17 points but had to get more reinforcement from his teammates.
It was only Gozum who managed to reach the double-digit scoring mark for CSB and were haunted by their shooting woes and several defensive lapses in the first half.