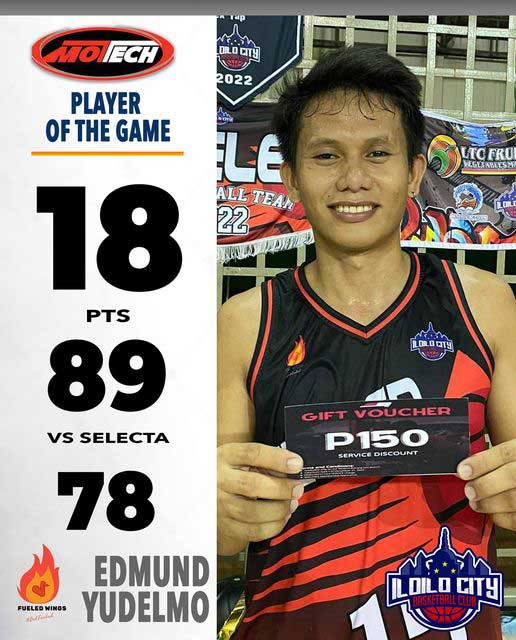 By Leobert Julian A. de la Peña
Team Fueled Wings came out to play during their debut game of the Iloilo City Basketball Club (ICBC) annual basketball tournament second conference after prevailing over the tough Selecta squad, 89-78.
Fueled Wings banked on their balanced scoring attack as five of their players finished the game with double-digit scoring.
It was Edmund Yudelmo who stood out the most after receiving player of the game honors with 18 big points that helped Fueled Wings grab the much-needed momentum when Selecta was making a run.
Fueled Wings were pretty much in control of the entire game and always found the open man in executing their offensive sets but Selecta refused to back down and trimmed their lead in the second half.
Selecta got off to a hot start in the last two quarters of the game and went close to as much as seven points but a late counter run by Fueled Wings sealed the deal and negated them of any comeback chances.
Despite a game-high 33-point performance from Armando Acurantes, Selecta still couldn't weather the storm and faced a lot of problems defending their offense.
Hill Jaspe backstopped Acurantes with 16 big points but had to get enough help from their supporting cast.
Meanwhile, team Bac Fire was automatically granted a win in the second scheduled game of the day after team Clinica Dental faced an early penalty.
During the opening ceremony, Clinica Denta wasn't able to comply with the minimum number of playing members.