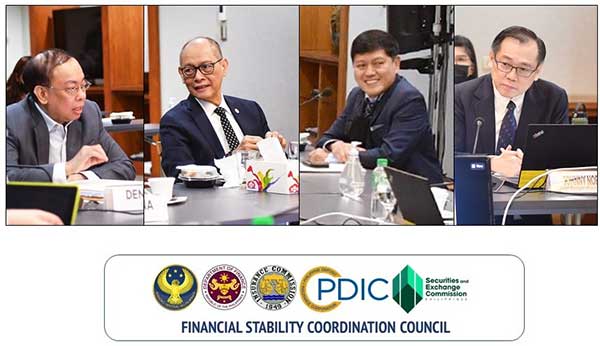 The Financial Stability Coordination Council (FSCC), in its quarterly meeting, recognized the fluidity of market conditions and assured the public that it is taking steps to sustain the recovery of the Philippine economy.
The Council also called on the collective effort of its stakeholders as the financial system prepares for global developments which may have systemic risk implications.
The FSCC is the venue for financial market authorities to identify, monitor, manage, and mitigate the build-up of systemic risk in the Philippine financial system.
FSCC Executive Committee Chairman and Bangko Sentral ng Pilipinas (BSP) Governor Benjamin E. Diokno was joined by Insurance Commissioner (IC) Dennis B. Funa, and Securities and Exchange Commission (SEC) Chairperson Emilio B. Aquino.
Also in the meeting were BSP Deputy Governor Chuchi G. Fonacier, Philippine Deposit Insurance Corporation Senior Vice President Sandra A. Diaz, SEC Commissioner Ephyro Luis B. Amatong, and BSP Senior Assistant Governor and FSCC Technical Secretariat Head Johnny Noe E. Ravalo. IC Director Arturo S. Trinidad II and Bureau of the Treasury National Treasurer Rosalia V. De Leon joined them virtually.