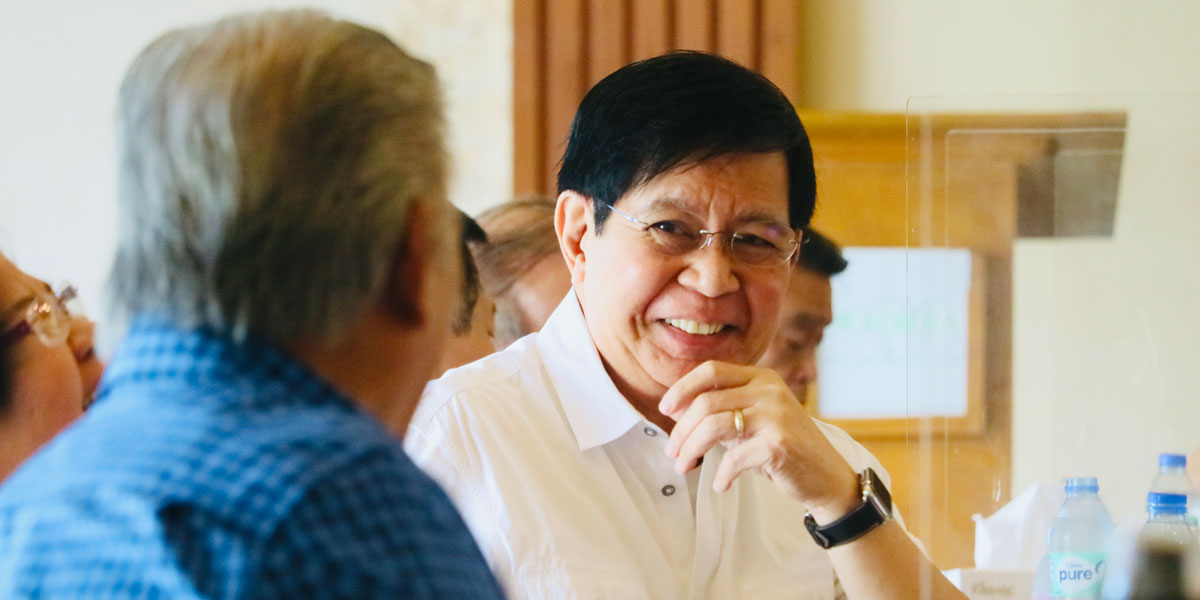 From the so-called "chalk allowance" for teachers to free tuition and a monthly allowance for senior high school students, Partido Reporma chairman and standard bearer Panfilo "Ping" Lacson will keep pushing for ways to improve the quality of Philippine education as the country's next President.
Lacson is making it a priority of his administration to add more teachers and raise their salaries, and give students more of what they need to raise the quality of education in the country, which he has already been doing as a senator since 2001.
In the "Bakit Ikaw? The DZRH Presidential Job Interview" on radio last Friday, the longtime public servant admitted the huge challenge of improving the education sector amid the prevailing coronavirus pandemic, thus he pledged to add more benefits to teachers and students alike once he gains the people's mandate following the May 9, 2022 elections.
"Dapat sa simula pa lamang ay talagang tugunan natin. 960,000-plus 'yung ating mga guro; ang kulang natin 36,000. So, bakit nawawala 'yung mga guro? Kasi mababa 'yung sweldo," sabi ni Lacson sa
[Right from the start, we will answer that (need). We have 960,000 teachers, but need 36,000 more. Why are we not adding more? Because their salaries are low.]
The three-term senator believes that Filipino teachers won't hope to go abroad to use their talents there and earn a better living once the education sector here improves. This is an issue he has advocated in the Senate through insertions in the national budget such as the teachers' chalk allowance, which he successfully raised fivefold.
"Ako pagka 'yung budget deliberation, 'yung chalk allowance lamang, ano. Nagsimula ito P1,000 lang e; ngayon umabot na kami ng P5,000. Lagi kong hinahanapan [ng pondo]. 'Yung last-mile, 'yung school program na kung saan 'yung malalayong lugar, 'yung mga [tinuturuan] talagang mga IPs [indigenous peoples]," he said.
[Whenever there's a budget deliberation, the chalk allowance for example, it started at just P1,000, now it's at P5,000. I always look for funds (for education), such as the last-mile school program where the faraway places, those with IPs (indigenous peoples), can get education.]
While Lacson always proposes to add funds to education because it is a need, he admits that even if education gets the highest share of the national budget, there will always be a shortage somewhere.
Still, the former national police chief believes that more Filipinos can come out of poverty if the youth get good quality education. This is the aim of his proposed "Edukasyon Plus" project, where free tuition, a P5,000 stipend every month, and a government internship program starting with senior high school students.
Proving that he is an action man not just against crime and corruption, Lacson successfully pushed for the establishment of an integrated elementary and high school on Pag-Asa Island in Palawan, following his push for the government to provide more funding for the facility.
This benefited Filipinos living in the country's outpost in the West Philippine Sea, which the Partido Reporma bet visited last November in his capacity as chairman of the Senate defense committee.
Despite threats sent over radio from the Chinese Navy, which is occupying territories near Pag-Asa Island, Lacson fearlessly proceeded to the outpost to learn the situation of Filipinos living on the island and consult them on their needs so he could include them in his Senate program.