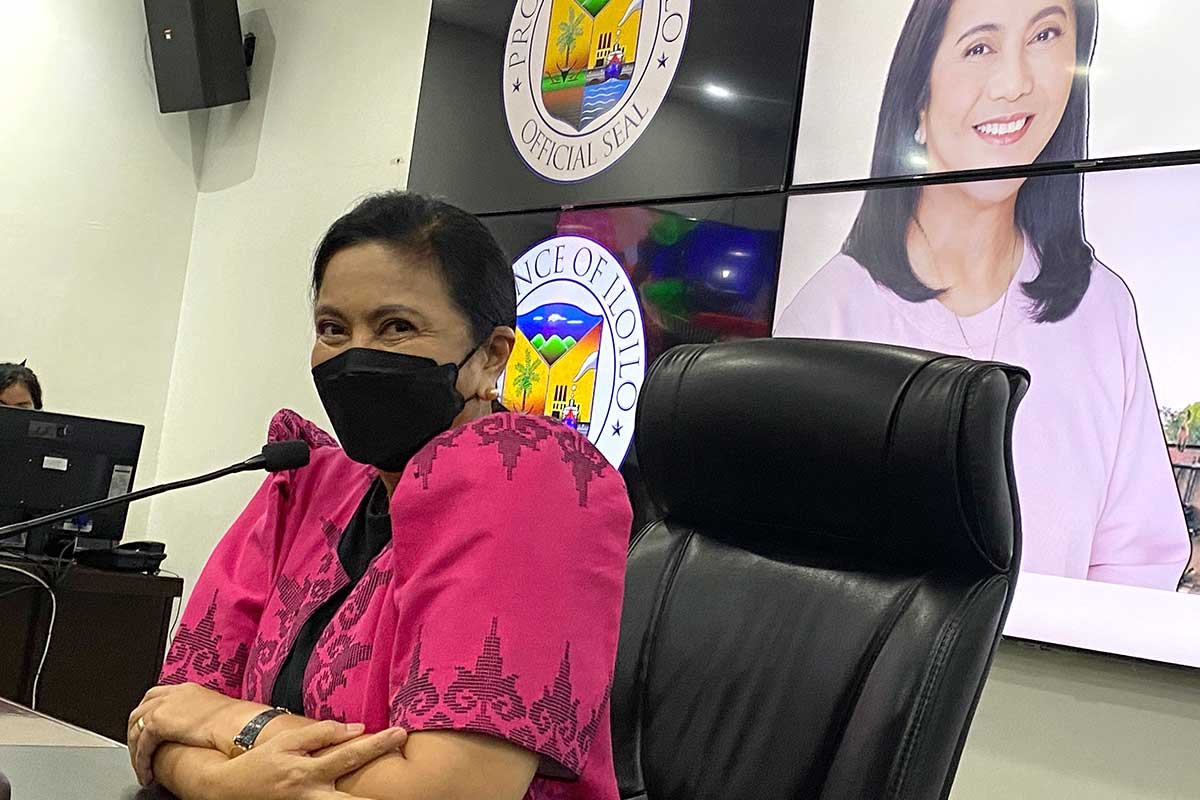 By Joseph B.A. Marzan
Former vice president Leni Robredo said she hopes to continue her projects in Iloilo province, which started during her term as second highest official of the land, with her new Angat Buhay non-government organization (NGO).
Robredo met the press after paying a courtesy visit to Iloilo Governor Arthur Defensor Jr., one of her staunchest campaigners in the 2022 presidential elections.
During the press conference, she mentioned that she was able to bring feeding programs in 5 Iloilo towns, including Lambunao, Cabatuan, and Concepcion.
This was possible through the Negrense Volunteers for Change Foundation, a partner of her office in her term and on Tuesday inked a deal with her new NGO to continue the feeding programs.
A press release from the Office of the Vice President last January 3 cited that 800 children in Lambunao benefitted from the feeding program.
She said that the program would be expanded to include school-aged children, which she envisions to be "wholistic", to address the problem of stunting.
"At the OVP, the feeding programs were just mere feeding programs. But now we want to make it comprehensive, not just starting with pregnant mothers and [children] in their first 1,000 days, but also school-aged children," she stated.
"Maybe with [Defensor's] help, maybe we can identify a town that could be a pilot, but what we are looking here also is to link with farmers, [and] incentivizing parents to be involved. We are looking at models in Brazil and Peru, but we want to tweak both programs to be done here," she added.
Robredo is in Iloilo to attend a testimonial dinner for Ilonggo former Senator Franklin Drilon on Friday but stated that she wished to take the opportunity so she can likewise meet with her supporters.
"After the elections, Iloilo was the number one place I wanted to go to, but we had been so busy setting up Angat Buhay, but I was invited to a testimonial dinner for [Drilon on Friday], so I said I will go because it will give me reason to go around and thank our supporters," she said.
She likewise mentioned that a group of medical frontliners in Iloilo who supported her will be converted into a full-fledged advocacy group which will continue the OVP's Bayanihan E-Konsulta program, to be supported by Angat Buhay.
"There were many groups of doctors, nurses, [and] medical frontliners who volunteered for us during the campaign and who signified their intent to continue our Bayanihan E-Konsulta program. Now, we are starting trainings to localize the program, with the most intent that those who could not pay medical fees can have online phone or online consultations. I know that doctors in Iloilo have started with the trainings, so hopefully we'll be able to launch the Iloilo version very, very soon," she said.
Aside from these, she also wished to replicate another Angat Buhay NGO project already up and running in Camarines Sur, in collaboration with local farmers.
She also said that she would be meeting with three different supporter groups in the city and province of Iloilo which will also carry out projects with potential support from Angat Buhay.
The former vice president is set to meet with supporters today, July 15 at the Ateneo De Iloilo in Mandurriao district.
She recalled how Iloilo became a catalyst for her presidential campaign, expressing her gratitude to Ilonggos who had put out time and resources for her.
"Iloilo has shown that when you decide to fight for what you think is right, even when difficult, you fight, and we truly appreciate it. There were many firsts here in Iloilo. Our first public rally here started the trend, that after the rally, all other places wanted to beat out what Iloilo did," she cited.
"[Defensor] and I talked about how rigorous the campaign was, not just the big rally here in the city, and I told him that the only reason that I was able to do it was that all the mini-rallies outside the city were taken care of by volunteer groups. If it was us, we may not have been able to do it," she added.
She called on her Ilonggo supporters to "continue the fight" and maximize on the opportunities that may be available for them.
"Let's not think that what we fought for ended during the elections, because whether we won or we lost, there are a lot of things we can do, and we are excited to pursue the many different things that we can still do with all of you, because now the opportunities to partner are limitless,"
Iloilo province held out strongly for Robredo in the May 9 presidential polls with 728,781 votes or 54.81 percent of the total vote share.