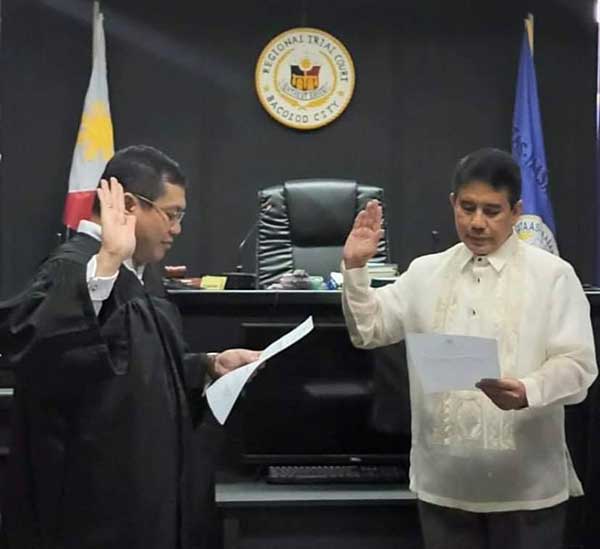 By Felipe V. Celino
ROXAS CITY, Capiz – Former Capiz Provincial Information Officer (PIO) Atty. Ferdinand Elbert Jomilla formally took his oath of office on Friday, March 4, 2022 before Executive Judge Raymond Joseph Javier of Bacolod City in Negros Occidental as new Presiding Judge of Regional Trial Court (RTC) Branch 79, Bacolod City.
President Rodrigo Duterte recently appointed Jomilla as presiding judge.
In an official communication transmitted to the Supreme Court on March 2, 2022, the office of Executive Sec. Salvador Medialdea formally informed Chief Justice Alexander G. Gesmundo of Jomilla's designation to the judiciary, enclosing Duterte's appointment letter.
Jomilla was the PIO of Capiz from July 1, 2019 to Dec. 31, 2019, ending his brief term to focus on his private law practice in Roxas City and province of Capiz.
He was a former Legislative Legal Officer of the late former Senators Raul S. Roco and Agapito Butz Aquino in the Philippine Senate and the Commission on Appointments.
While in the Senate, he was part of the committee that drafted significant legislative bills which were signed into laws, including Republic Act 7653 entitled "The New Central Bank Act" and Republic Act 7691, entitled "An Act Expanding the Jurisdiction of Metropolitan Trial Courts, Municipal Trial Courts and Municipal Circuit Trial Courts".
He was also a Legislative Legal Consultant of former Capiz 1st District Congressman Rodriguez D. Dadivas in whose term, he drafted House Bill No. 3404 entitled "An Act Creating 2 Additional Municipal Trial Court Branches in Roxas City" which was approved and signed into law as Republic Act No. 9274 by former President Gloria Macapagal-Arroyo on March 21, 2004.
In 1987, Jomilla was chosen as one of the "Outstanding Students" awardees by the Philippine Jaycees and was also an IWAG Awardee of the defunct Ministry of Public Information for excellence in campus journalism as multi-awarded college editor-in-chief.
His alma mater University of Negros Occidental-Recoletos conferred on him the "Most Outstanding Alumni Award in Law and Public Service" in 2004 for his professional achievements.
Jomilla graduated with a degree in Philosophy Magna Cum Laude a d earned his law degree at the San Beda College of Law in 1992.