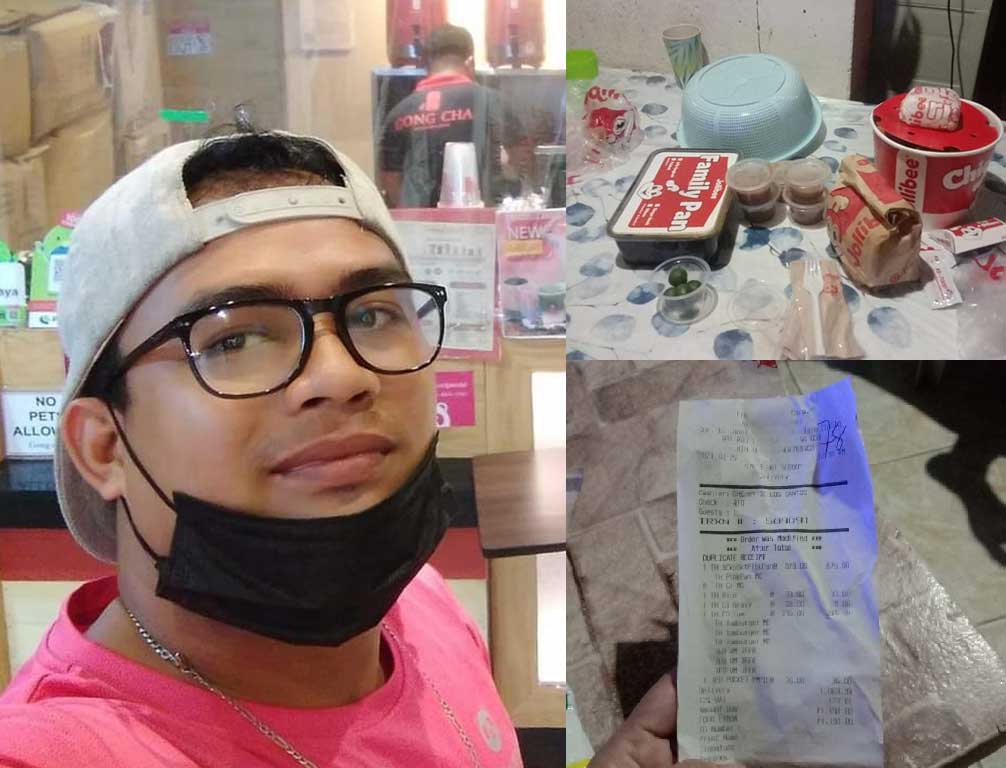 Another hardworking food delivery rider has been victimized by a customer who ordered over P1,000 worth of food without paying for it.
Ricardo Rodriguez, 31, could not fathom why a customer would swindle him in the middle of the Covid-19 pandemic.
The delivery rider and father of two was suspended from work after he failed to remit over P1,000 worth of order last Wednesday morning.
According to Rodriguez, he received an order from a certain Charles Wong of Calubihan, Jaro past 1 a.m. Wednesday.
Wong ordered P1,191 worth of fast-food.
Rodriguez said he was able to call Wong and he readily trusted the customer who spoke in Tagalog and Chinese.
Rodriguez started to doubt the customer when he arrived at the location as he only found some minors hanging out in the area.
"Didto ko nagduda kay pag-abot ko sa location puro mga bata kag mga menor de edad nagatambay. Dayon gatudlu-anay pa sila. Sang gincontact ko na ang customer, nagrequest pa siya nga idrop-off ko lang kuno ang order kag hulaton siya. Teh ako, nagsalig man ko sa iya," Rodriguez said in an interview.
Despite following his requests, no customer showed up to pay Rodriguez. And after patiently waiting for an hour, Rodriguez finally decided to bring home the order and shoulder the payment.
Wong cannot be contacted since then.
As a policy, food delivery riders are required to remit the payment of the orders two hours after their delivery. Failure to do so will result in automatic suspension until the amount is remitted, according to Rodriguez.
Since he has already dropped off the order, Rodriguez was required to remit the amount two hours after his delivery.
But Rodriguez, who is already struggling to meet the daily needs of his family, could not come up with the exact amount of P1,190. He was eventually suspended from work.
Rodriguez was among the seven food delivery riders who were victimized by hoax customers from Calubihan, Jaro that day.
The suspension has taken a toll on Rodriguez who has already been struggling from the effects of the pandemic.
"Grabe gid ugot ko kay syempre grabe man baka-baka sang partner ko tapos kabudlay pa abi sang panahon subong, may ginagatas pa kami nga bata tapos amuhon pa siya sini," according to Rodriguez's wife Maria Luisa Decolongon Jra.
According to Decolongon, this was already the third time that her husband was victimized by cancelled orders and hoax customers. But the latest was the most burdensome as it involved a huge amount.
"Sang una may mga nagakacancel gid man pero nangita-an namon to paagi. Una, sobra P100 lang kag ang ikaduwa sobra P200 so ako ginbaligya ko pa. Subong waay waay gid kami kag at the time kasanagon pa so waay gid kami nakangita paagi," she said.
Rodriguez remains suspended from his work.
The food delivery rider cannot help but express his frustration over the incident. Rodriguez shared that their hard work and sacrifices as food delivery riders were not easy, yet they remain undermined and unappreciated by the public.
"Kami nga mga riders, gasulay kami sa ulan, sa init, exposed pa kami sa virus tapos sa ila hapos lang mag-amo sina. Ubra lang sila tarong, mangabuhi lang sila patas," he lamented.
Before working as a food delivery rider, Rodriguez was a licensed massage therapist in a spa in Iloilo City.
However, due to the numerous closure and lockdowns, his job could not sustain the needs of her five-year-old daughter and three-year-old son. So, he decided to quit his job and start a new career as a food delivery rider.
Now, Rodriguez is still looking for extra jobs and sideline for him to come up with the amount that he has shouldered from the hoax customer so that his suspension will be lifted.
He has already reported the customer and the number to the support system of their company.
Rodriguez can now only hope that the same incident will not again happen to him and other food delivery riders who are just doing their jobs amid the Covid-19 pandemic.
For those who are willing to help Rodriguez and his family you can donate thru G-cash Account: Ricardo E. Rodriguez II, Mobile No. 09105325622. (ERS)