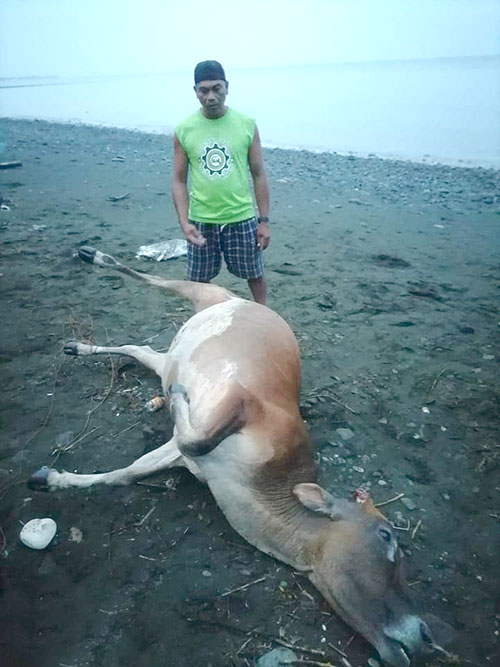 Lifeless bodies of livestock broke the hearts of farmers in Miagao in Iloilo province after the animals were swept by flash flood caused by Typhoon Jolina.
Carabaos, cows, pigs, goats, and even chickens perished in several barangays in Miagao. The animals were not spared from the flash flood and the overflowing of the three major rivers in the town.
According to Mayor Macario Napulan, three major rivers in their town overflowed on September 6 due to the heavy rains causing a flash flood.
"Ang tatlo ka mayor nga suba nga naglapaw ang Tumagbok, Oyungan, kag Bacauan River. Naglapaw ang tubig sa kilid sang suba kag naglab-ot 10 to 15 meters," Napulan said in an interview with Radyo Pilipinas Iloilo on Tuesday.
Anton Noble took to social media to post pictures of the lifeless body of a cow which was found on the shores of Brgy. Damilisan in Miagao.
Noble said Ruel Calantas identified the cow. Two of Calantas' cows were swept away by the flash flood.
The mayor admitted that the farmers were caught off-guard and were not able to prepare as the weather remained fair until heavy rains caused flash floods later in the afternoon.
As of September 7, the initial flash flood damage report of the town showed that five carabaos and two cattles perished.
The town also reported an estimated P1 million worth of damage in the irrigation system of Igcabitoon Communal Irrigators Association Inc.
Meanwhile, heavy rains and flash floods also damaged 205 hectares of rice crops covering 32 barangays in Miagao with an estimated value of P3.693 million.
Currently, Napulan said assessment of damage involving 54 barangays along the rivers is ongoing. (ERS)