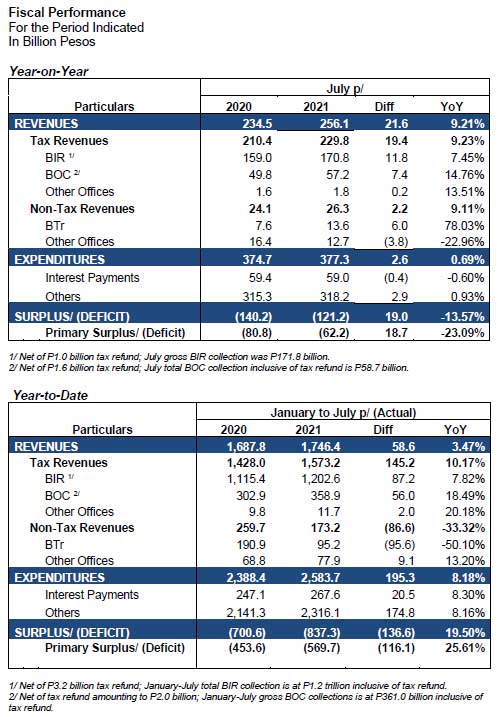 The National Government (NG) recorded a P121.2 billion budget deficit for July, down by 13.57% from last year's shortfall of P140.2 billion.
The fiscal performance for the period resulted from the 9.21% growth in revenue collection alongside a 0.69% modest increase in government expenditures.
Meanwhile, total aggregate budget deficit for the first seven months of the year widened to P837.3 billion, 19.50% higher than the January-July 2020 comparable figure of P700.6 billion.
Revenue Performance
Revenue collection for the month reached P256.1 billion, exceeding last year's outturn by 9.21% or P21.6 billion. The resulting cumulative collection of P1,746.4 billion for January-July 2021 likewise increased by 3.47% against the P1,687.8 billion registered in the equivalent period a year ago.
Tax revenue grew by 10.17% year-over-year (YoY) and comprised 90% of the YTD total collection while non-tax sources made up the remaining 10% or P173.2 billion.
The Bureau of Internal Revenue (BIR) recorded a 7.45% YoY increase in its July performance having raised P170.8 billion1. Cumulatively, BIR's uptake for the first seven months of the year amounting to P1,202.6 billion improved by 7.82% or P87.2 billion compared to previous year's tally of P1,115.4 billion.
The Bureau of Customs' (BOC) net collections for July reached P57.2 billion2, representing a 14.76% improvement from a year ago. This raised BOC's total revenue to P358.9 billion for the 7-month period, 18.49% higher than last year's outcome of P302.9 billion.
The Bureau of the Treasury (BTr) income for July climbed to P13.6 billion, 78.03% better compared to last year's level. The significant increase for the period was largely due to higher dividend remittances, NG share from PAGCOR and interest income from government deposits.
BTr's total revenue as of end-July of P95.2 billion has already surpassed the original full-year program of P74.7 billion by 27.52% driven by higher dividend collections as well as income from BSF investment and government deposits.
However, the 2021 YTD income is 50.10% lower from the comparable P190.9 billion raised in 2020 due to the base effect of higher income and dividend remittances last year in line with the provisions of R.A. 11469 (Bayanihan I).
Revenue from other offices (other non-tax including privatization proceeds and fees and charges) amounting to P12.7 billion went down by 22.96% YoY, partly due to the high base effect of the one-off remittance from MPCALA Holdings Inc. for the Cavite- Laguna Expressway project. Nonetheless, YTD collections for the Jan-Jul period still grew by 13.20% or P9.1 billion YoY to P77.9 billion.
EXPENDITURES
NG disbursements for July amounted to P377.3 billion, 0.69% or P2.6 billion higher than last year's P374.7 billion.
The modest increase can be attributed to the higher personnel services expenditures and infrastructure outlays, but were partially offset by the one-off Social Amelioration Program (SAP) of the Department of Social Welfare and Development (DSWD) whose implementation of the second tranche was still ongoing in July last year.
The timing of subsidy releases to the Philippine Health Insurance Corporation (PHIC) and National Housing Authority (NHA) also weighed down on the growth of disbursements for the period. This resulted in a cumulative expenditure of P2,583.7 billion, surpassing the P2,388.4 billion disbursements in the first seven months of 2020 by 8.18% or P195.3 billion.
Primary expenditures for July inched up to P318.2 billion from the previous year's P315.3 billion. Total primary spending as of end-July reached P2,316.1 billion, showing an 8.16% or P174.8 billion growth from the same period last year. Interest Payments (IP) amounted to P59.0 billion in July, pacing last year's level as the increase in domestic IP due to Treasury Bonds/Bills issuance was offset by lower foreign payments due to matured global bonds.
However, total IP for the 7-month period amounting to P267.6 billion increased by 8.30% over last year mainly due to discounts from the reissued Fixed Rate Treasury Bonds and coupon payments from Retail Treasury Bonds (RTBs) issued last year and this year.
As a percentage of expenditures and revenues, IP for the January-July period increased to 10.36% and 15.32% from 2020's 10.34% and 14.64%, respectively. Primary Surplus/ (Deficit) Excluding interest payments, NG's July primary deficit narrowed to P62.2 billion from last year's primary balance of P80.8 billion.
Meanwhile, the P569.7 billion cumulative primary deficit as of end-July was 25.61% higher than the level recorded a year ago. Fiscal Indicators Q2 2021 Real GDP expanded by 11.8%, rebounding from the 17.0% contraction in Q2 2020 and 3.9% decline in Q1 2021.
Despite this, the Deficit-to-GDP ratio for the first semester rose to 7.86% from last year's level of 6.53% as expenditure growth outpaced revenue collection over the period. This is reflected in the higher expenditure effort of 24.21% compared to 23.47% for the same period in 2020 while revenue effort moderated to 16.35% from 16.94% due to the high base effect of dividend remittances last year.
Nevertheless, tax effort increased to 14.74% from 14.19% a year ago.