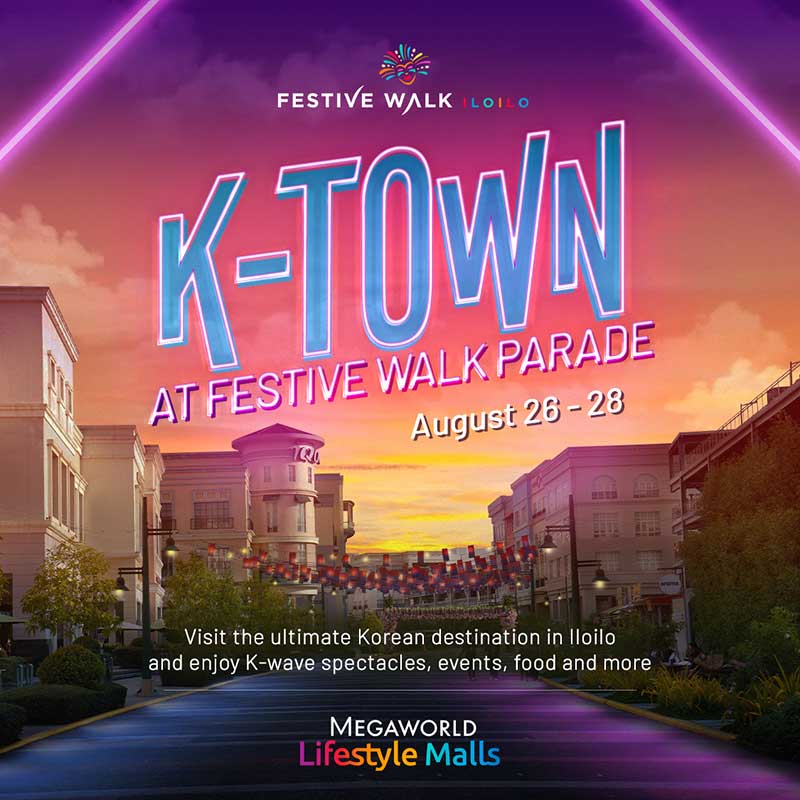 Festive Walk Iloilo furthers its bid to strengthen Iloilo and Korea's friendship by launching the K-Town at Festive Walk Parade featuring a grander lineup of Korean restaurants, live musical and cultural performances, and loads of fun activities that the whole community is welcome to enjoy.
Star-studded K-performances
As the first Korean destination in Iloilo City, K-Town has been welcoming guests since earlier this year. On its Grand Opening on August 26, they are bringing in more fun and excitement through the K-Town Grand Launch. Revel in a K-celebration with lantern lighting and exciting performances from Dasuri Choi and Rabiya Mateo.
Festive Walk Iloilo is also a long-time partner of the Iloilo Korean United Community Association, an organization that recognizes Koreans as the number one foreign visitors of the city. Thus, on August 27, the  Ka-Chingu: Korea-Iloilo Friendship Day will be held at K-Town complete with food, attractions and pet events. In the evening, the K-Party! event will let guests dance the night away with their favorite influencers, good music, and an array of drinks.
Discover a mouthwatering selection of Korean cuisine
K-Town is best known for their delectable Korean cuisine options. Festive Walk Parade has been transformed into a stretch filled with Korean restaurants and Korean street food fairs with a delightful outdoor setting. Guests will never go hungry with every visit, because K-Town Eats will be available all-year round.
Participating Korean stores included Jip Bab, which offers unlimited Korean barbecue sets;
and Iloilo-based Rice and Rolls serves a variety of Kimbap, Sushi, and Bibimbap selections.
2D Samgyupsaranghae is the place to go when craving for Korean chicken; and The Best Taste Samgyup (The BTS) is for those who want to eat unlimited samgyupsal in an enclave designed with photos and murals of K-pop superstars.
If on-the-go, buy a bowl of Kimchi fried rice or a bowl of Strawberry Bingsui at Noryangjin Cupbob. Meanwhile, Seoul Mate Home Kitchen has everything from Tteokbokki, Jajangmyeon, to Tangsuyuk meals.
Tokki-Tokki not only has unlimited samgyupsal sets you can enjoy with a barkada, they also have a mini mart where you can shop for Korean items and delicacies.
Take your Korean friends to a Filipino food trip, too. Dine in at Mamusa and order their Bagnet Kare-Kare for sharing and a serving of Iloilo Chorizo Pizza. For cold drinks and more comfort snacks, drop by at UFrappe.
Hang out and book a table at Drink SLS and hurrah over their premium booze, for more club music and good times, visit Bottle Ground.
Delight in fun-filled events and activities
Visit from August 26 to 28 at Festive Walk Parade and take part in outdoor K-Experiences including Korean-inspired sights, installations, photo walls, and more.
K-Town is also launching the K-Pawtography contest, where guests can dress up their pets in their Korean OOTDs to get a chance to win exciting prizes. Pet parents can send in their furbabies' photo challenge entries with the help of Studiomatic for free. They just have to visit Studiomatic's booth and take their photos there.
No need to book a flight and travel to Korea to get a taste of Korean culture. Visitors can drop by the Hanbok & Smile event and borrow traditional Korean clothing free of charge. Take photos amid Korean-inspired views backdrops around the area for the best photo opportunity.
On August 28, Festive Walk Iloilo will kickstart the K-Fan Festival where joiners can compete in exciting Hallyu activities together with co-fans. There will be a Cosplay Contest, K-Dance Fest, Mukhang Challenge, and other exciting games.
"To create K-Town, we have converted the entire stretch of Festive Walk Parade to this modern and beautiful space that is filled with Korean restaurants, outdoor establishments, installations, decorations, and more. We look forward to seeing Filipinos especially Ilonggos, Koreans, and ofcourse other cultures to enjoy the activities and take their loved ones here," said Karmela Jesena, General Manager of Festive Walk Iloilo.
For more updates on K-Town, like and follow Festive Walk Iloilo at facebook.com/FestiveWalkIloilo and on Instagram at @festivewalkiloilo. For more information, log on to megaworld-lifestylemalls.com or call 8-462-8888.