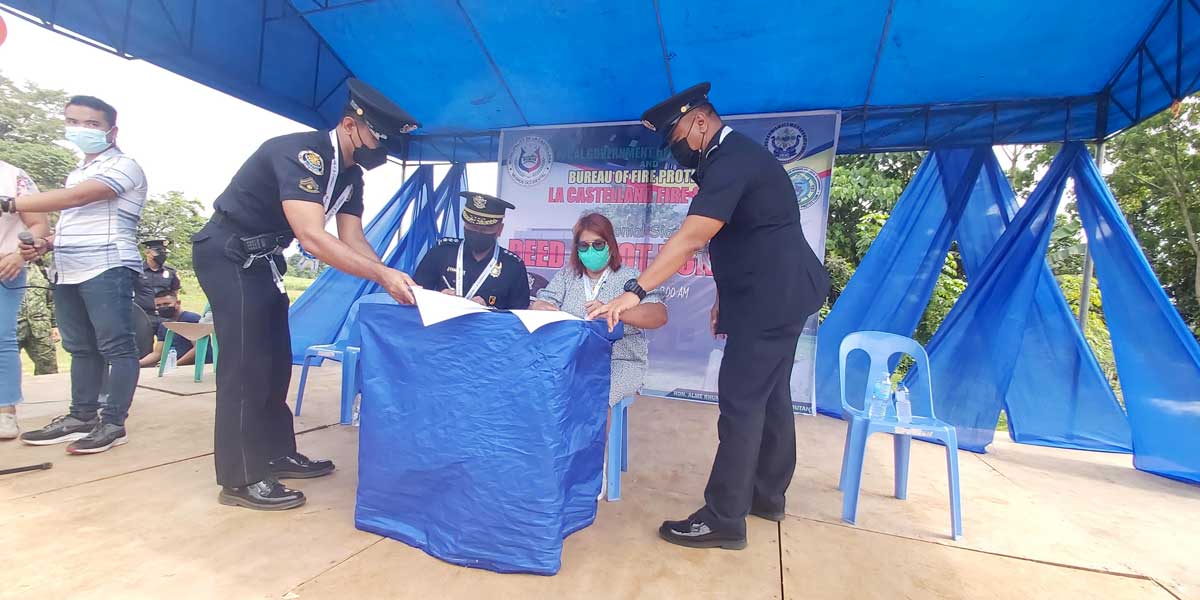 By Dolly Yasa
BACOLOD City- The regional director of the Bureau of Fire Protection (BFP) lauded the municipal mayor of La Castellana, Negros Occidental for donating a 1,000-square meter lot to the bureau and for the support to local firemen.
Senior Supt. Jerry Candido, BFP regional director for Western Visayas, also thanked Mayor Alme Rhummyla Nicor-Mangilimutan for her concern to her constituents in the hinterlands by also planning to establish a fire sub-station at Barangay Cabacungan.
In an interview after the Signing of the Deed of Lot Donation ceremony recently at Brgy. Robles in La Castellana town proper, Candido said the bureau will provide personnel to the sub-station.
The municipal government donated the lot for the new BFP station.
The Deed of Donation was signed Monday at the La Castellana Elementary School oval.
Among the witnesses were the chairman of the Sangguniang Bayan Committee on Tourism, Councilor Añejo Nicor; Acting BFP Negros Occidental Provincial Director Chief Inspector Kim Molina Celisio, and municipal and local BFP personnel.
The lot is located at Brgy. Robles which will be developed into an activity area similar to Panaad Park in Bacolod City.
Command and rescue centers of the disaster risk reduction and management office facilities and evacuation center are also located in the area.
The Philippine National Police (PNP) also has a 1,000-sq. m. lot in the area which was also donated by the municipal government.
The mayor used to be a police non-commissioned officer before she joined politics.
During the signing ceremony, Mangilimutan said the local government will also establish a fire sub-station in Brgy. Cabacungan.
Located a few kilometers from the foot of Kanlaon Volcano, Cabacungan is accessible to other hinterland barangays. It is where the local government had also established satellite government offices such as a police precinct and an extension Mayor's Office.
The lady mayor said that having a standby fire truck in the barangay will mean quicker response to any fire incident in the far-flung communities.